When I began
cloth diapering
seven months ago, I had two little ones in diapers. My oldest son, Ian, was 26 months old, and my youngest, Brendan, was 3 months old. After much research into the world of cloth diapering, and the multitude of options I found, I chose to begin with a stash of 24
one size Bum Genius 3.0 pocket diapers
. These diapers fit both boys, and easily stacked into my existing diaper stacker that hung on the wall of the nursery. After a few months had past, my two year old began to outgrow the
bumGenius diapers
. Refusing to go back to disposables, I added 6 Large
Thirsties Fab Fitted
diapers and 3
Thirsties Covers
to my stash. Now that I had 24 diapers for my infant, and only six for my toddler, I found myself doing laundry every day, thus the need for more large diapers. I preferred the
pocket style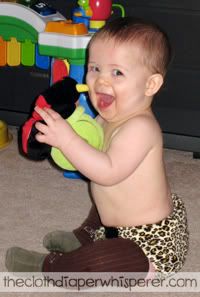 diaper over the
fitted diaper
, so over the course of the next few weeks, I purchased 12 Large
Fuzzi Bunz
to get my toddler through potty training.
As you might imagine, I could no longer fit all the diapers into my diaper stacker. I found myself stashing diapers in any and every empty drawer I could find…not the best method of organization when I searching for a diaper with a wet, wiggly child on my hands. At about the same time, I ran across a fabulous idea for cloth diaper storage on a pregnancy and parenting forum that I regularly post on. This cloth diapering momma had purchased a toy storage unit with individual plastic bins, and instead of putting toys in the bins, she stored her diapers in it. I had the exact same storage unit in my son's room, so I found new homes for his various toys, and moved it into the closet in the nursery. The diapers fit perfectly, and there is a bin for each diaper style, as well as accessories such as inserts, doublers and my cloth wipes.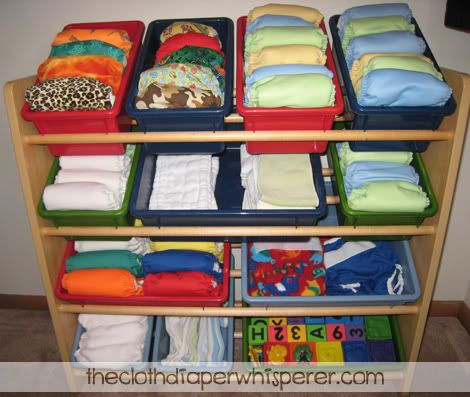 To save time during diaper changes, I stuff all of my
pocket diapers
after washing them, and then separate the ones with overnight
hemp inserts
by using a specific color diaper. This makes it easy for anyone (my husband, babysitter, grandma etc.) to differentiate the different types of diapers without having to peak inside the pocket. Not only has this diaper organization worked well for us, but I also get to enjoy looking at all of the cute fluff each and every time I go into the nursery to change a diaper.
By: Katrina W.