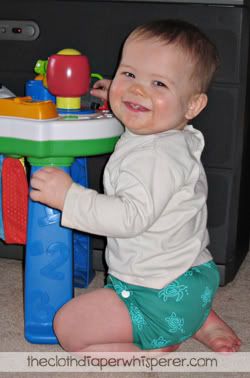 Hello, my name is Katrina, and I was the lucky
winner
of
Fluff Friday Week 7
. I'm blessed to be a stay at home mom to our two wonderful little boys, Ian (who will be 3 in April) and Brendan (who will be 1 in March). My cloth diapering addiction began in late May 2008 when Brendan was two and a half months old. I was tired of filling the local landfill with dirty diapers, and wanted to find something more environmentally and friendly. I began my research and was pleasantly surprised with all of the cloth diapering options that I found. My first cloth purchase was the
bumGenius One Size Diaper sample package
from
Kelly's Closet
. I quickly fell in love with the
BumGenius diapers
and shortly thereafter ordered a
24 pack cloth diaper starter package
. This began my journey into the world of cloth diapers.
On the Friday morning before Christmas, I sat down at my computer with a cup of coffee ju
st as I do every morning. I checked
my blog
for updates on the blogs I that follow and was excited to find my name in the Fluff Friday winner box. I never win anything, so I actually thought, it must be another Katrina, certainly not me. Once it sunk in, I was thrilled to realize that I was the new owner of two cute new
Bumwear one size pocket diapers
, as well as a
zippered Jam Tots wet bag
. Even with the busy Christmas mail holiday, I received my new diapers the following Friday. I was beyond thrilled when I opened the package to find the two prints I would have chosen myself. It's only been a few weeks, but so far I really like the diapers. I love the soft fleece that touches Brendan's skin and the leg snaps work well to get a good fit around his thighs. With most of my cloth diaper stash being solid colors, I love putting Brendan in fun prints when we're at home so I can see the cute diapers. As for the
Jam Tots wet bag
, it works great for a quick afternoon out now that I only have one child in diapers. My other wet bag only has a drawstring, so it isn't as good at keeping the smell of a dirty diaper contained. Oh, and I've found one other fantastic use for my
Jam Tots wet bag
- it's the perfect solution of where to put my momma cloth between washings. It's waterproof, zippered and just the right size. Thanks again Kelly for the wonderful new fluff and stuff.
- By Katrina