Cloth diapering one child is challenging enough; how about diapering for two? Whether you have twins or two children close in age, both in diapers – try to look on the bright side… it's double the cloth diapering fun!
First of all, take pride in the fact that your savings and overall environmental impact are far more significant than a person diapering only one child. I did a quick accounting and even with very modest calculations, with disposables you're looking at approximately 5000+ diapers per year for two children in diapers – and a minimum of $1000. Wow, the numbers sure do add up in the long term!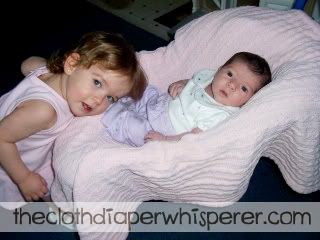 My oldest daughter was only 6 months old when I discovered I was pregnant again. When my second darling daughter was born I was a proud mommy to a newborn and a 15 month old, both in diapers. At that time I was not cloth diapering and believe me, knowing what I know now – I regret it! My husband was initially against cloth diapering so instead we were literally
wasting well over $100 a month
on disposables and wipes. Believe me, there's a number of things I would have rather spent that $100 on rather that tossing my money in the trash!
With cloth diapering, that's not the case (ok, so I haven't exactly stopped buying cloth diapers, but at least I'm getting my money's worth and I have something to show for it). Long gone are our disposable buying days! I even try and imagine all the FUN I missed out on cloth diapering my two girls at the same time! My husband lovingly teases me, "You don't have daughters; you have two dolls." Had I cloth diapered them early on I would have thoroughly enjoyed clothing their bums in the beautiful colors and prints that cloth diapers have to offer.
Diaper changes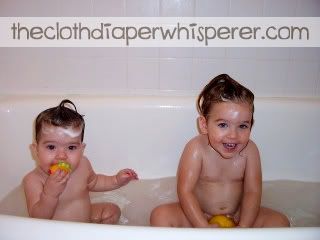 for two don't have to be a dreadful task! Take advantage of the one on one time and enjoy the moment while you're changing him/her. Tell your little one a special short story, or make silly faces to catch their attention and bring a smile to their face (and yours too)! Diaper changes are actually one of my favorite times with my little man; I have a cute little stuffed toy I keep on the changing table to use for playing with him during diaper changes. At night, I let my girls pick out which color diaper/pull up they want to wear for bed. As I help them put on their nighttime cloth diaper/pull up I make it a point to give them a big hug and a kiss and tell them how special they are.
Naturally diapering two children is a
little
more work, but not much. The most important factor is determining your approach and a system that will work best for you.
Things to consider when cloth diapering two:*Which cloth diapers work best?
If you're looking to truly diaper on a dime- then prefolds and covers are not only economical but also work phenomenally well. Oftentimes, when the youngest baby grows bigger, you can use premium sized prefolds for both children and then they will each have covers in the appropriate sizes.
However, the one size pocket diapers are rapidly growing in popularity since the one diaper can typically fit both children (with minor adjustments). Essentially you're getting the most bang for your buck!
*How many diapers will I need?
This will depend heavily on your budget and how often you plan to wash your diapers. Personally, I believe it's better to overestimate than underestimate. I'd rather have a few extra clean diapers than realize I need to do a load of laundry – STAT! Figure approximately 10 diapers per child per day to be on the safe side.
A general rule of thumb is to do diaper laundry every other day. However, there are some who have just enough diapers to get through a day and others who could go several days. Sometimes it's hard to think spending an extra $100-200 on additional cloth diapers is going to save you money, but in the long run it can/will. Diapers worn and washed every day are going to wear out significantly faster than diapers worn and washed less often.
So, if your budget will allow you to buy additional diapers versus washing laundry every day or every other day – go for the additional diapers. This will be less of a headache for you but also ensure your diapers last a bit longer too!
Some tips and tricks…
1. Purchase gender neutral colors which can be used for either a boy or a girl.
OR purchase a specific color for each child so hubby (or anyone else) knows which color fits which child

2. Have two diaper pails, one for each child's diapers and wash their diapers in separate loads so they don't get all mixed.


- By Serena