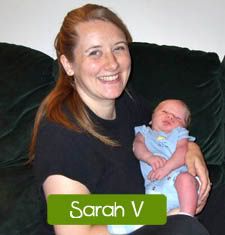 Sarah VanBogart is a work at home mom, or WAHM. In the past she has been a veterinary technician, office manager and paralegal. But when she became a mother, her children became her priority and she found that she didn't want to go to work and send the kids off to daycare. So she stayed home, even homeschooling for a year, and eventually found that she could do this and make a living at the same time by selling the diapers she was already making for her own children to other people around the world. Isn't the internet great!
Sarah made her first cloth diapers for her second baby. She started sewing them herself because she badly wanted to get some nice fitted newborn size diapers, but couldn't afford anything more than prefolds and covers. So instead she went and bought a couple yards of fabric and sewed them up herself.
7 years, 2 babies and hundreds of diapers later, she introduced PerfectFit diapers in May of 2008. These diapers were the result of endless changes and experiments with different patterns, materials and ideas over the course of many years. Many of these were products she sold under the brand names Fancy Pants, Pollywog Babies and Softbums since the early days of WAHMs on the internet. The PerfectFit is the latest in the line of Softbums cloth diapers, which have been known for their quality, value and uniquely trim fit for nearly 5 years.
Softbums PerfectFit diapers are the Pocket-less, Pockets. No stuffing, no un-stuffing, takes up less room in the washer, and diaper bag, and best of all the cost is comparable to Prefolds and covers! Softbums PerfectFit All-in-2's are a new idea on an old standby. Similar to Prefolds and Covers, All-in-2's use a 2 part system, except that unlike Prefolds, you don't have to fold the diaper part. Simply snap in the Contoured Snap-in Insert and you are ready to put it on baby. This allows you to not only have quick and easy changes, but also allows you to re-use the cover! Re-using the cover is not always possible with All-in-2's, but because Softbums are so sleek and trim, the Contoured Snap-in Insert fits perfectly in the cover. This means that your covers are sometimes totally dry when you change baby, and you can immediately replace the Snap-in Insert with a clean one!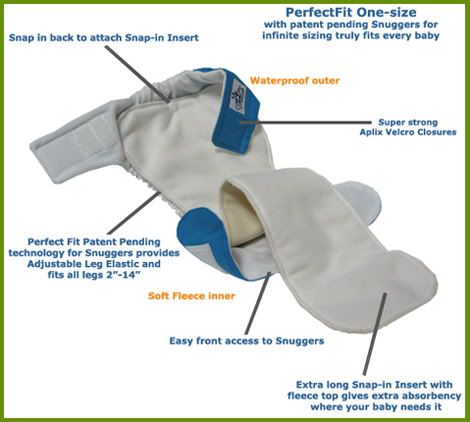 Softbums PerfectFit All-in-2's are made of a contoured absorbent Snap-in Insert of 3 layers of Organic Hemp/cotton French terry, topped with soft white microfleece. Covers are made of a Waterproof PUL outer in your choice of solid colors(prints coming soon!), a soft white microfleece inner, high quality elastic in legs and back of diaper, super strong fray-proof Aplix closures with cross over and fold back tabs. And of course our patent pending Snuggers hidden inside each cover to adjust the legs for your baby to get a perfect fit on every baby, every time!