Some women have an addiction to shoes, and/or handbags, even electronics (yes, women can be addicted to electronics too). However, we become moms and for most, those
addictions
change. High heeled shoes are replaced with comfy flats; handbags are replaced with diaper bags (don't fret, there are some really cute and trendy diaper bags out there to accessorize with)… but I don't think many even consider an addiction to diapers, unless you cloth diaper of course!
By now, many of you know I'm not only in LOVE with cloth diapers but addicted too! I've had to give myself a monthly allowance to prevent me from buying virtually everything on
Kelly's Closet
. Thankfully, with the
Diaper Dollars™ program
we all get rewarded for shopping at
Kelly's Closet
; so I like to reward myself! LOL!
With all that said – people have often asked, "What exactly is in your stash?" and "What do you like best, and what, if anything, do you not like?"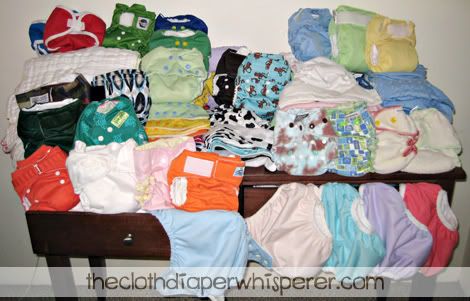 So here's a list of the diapers I currently have on hand:
16
Blueberry One Size pockets
22
bumGenius One Size 3.0 pockets
10
bumGenius One Size Organic All-in-Ones
(Snaps and Hook/Loop)
1
bumGenius Deluxe All-in-One 3.0
(Medium)
2
Bumwear One Size Batik Print pockets
1 Drybees Pocket
7
Fuzzi Bunz Seconds
(Medium)
1
Fuzz Bunz One Size
(The original version 1.0 one-size NOT the newer version that is still waiting to be released through
Kelly's Closet
)
1
GoodMama One Size Fitted
8
Happy Heiny's One Size pockets (Aplix)
2
Happy Heiny's One Size pockets (Snaps)
4 Happy Heiny's Pull-up Trainers
1
Kissaluv's Fitted
5
Kiwi Pie One Size Fitteds
1 Mommy's Touch Pocket
1 Mommy's Touch All-in-One
1 Muttaqin Baby One Size Fitted
1
Rocky Mountain One Size pocket
1
Soft Bums One Size All-in-Two
w/3 Organic Bamboo Velour soakers
2
Wahmies One Size pockets (Hooks)
8 dozen
Prefolds
(from newborn/infant through premium/toddler)
14
Thirsties Covers
(7 small and 7 medium)
1
Wonder Wraps One Size Cover
6 pairs of
Diaper pins
4
Snappi's
Ok, so needless to say I have a TON of diapers in my stash. (Still waiting for y'all to pick your jaws off the floor, LOL) And, I'm anxiously awaiting, like the rest of you, the release of other diapers such as the improved
Fuzz Bunz One Size Version 2.0
.
Now, I hear you asking,
"Serena, why so many diapers?"
In all honesty, I really like trying a little of everything. BUT, I also like being able to provide a well-rounded and experienced opinion for all you mamas and
Diaper Shops
customers (
Kelly's Closet
,
Fuzzi Bunz Online
,
One Size Diaper Store
, and
Bulk Cloth Diaper
). Every baby is unique and with so many cloth diapering options out there, it's truly a challenge trying to figure out what is going to work best for you and your little one! And we're always here to help with real (and honest) hands-on experience!
Additionally, I like having some diapers to leave at my parents house (Nana and Papa)… so the bumGenius pocket diapers with the hook and look (Velcro) closures are great for the hesitant grandparent(s)!
Lastly, I want more babies so I plan to be cloth diapering more little bums to come!
What exactly do I like best?
That depends on my mood! Some days I thoroughly enjoy using prefolds and covers other days I like my all-in-one's and pocket diapers, and most recently I started appreciating fitted diapers.
My current diaper favorites are: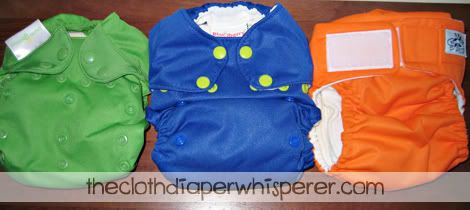 bumGenius One Size Organic All-in-Ones (snaps)
Soft Bums All-in-Two
Blueberry One Size diaper
The
bumGenius One Size Organic All-in-One
is really a wonderful grab and go diaper which features soft organic cotton; and with the wonderful stretchy bumGenius tabs, it's easy to get the right fit every time (and super trim)!
Soft Bums All-in-Two diaper
is one of THE trimmest cloth diapers I've had the pleasure of using! While it is a one size diaper but it is NOT a pocket… the "inserts" are actually soakers which snap in and are very soft and absorbent (I have the bamboo velour/organic cotton soakers). Once you get over the sticker shock, these are really are worth the money!
My next top favorite one size is the
Blueberry One Size diaper
. Blueberry uses a combination of micro-terry and hemp cotton for a super absorbent, yet trim, insert (which also makes the diaper relatively trim compared to other one size diapers). I like these diapers best for my trips outside the house (they also come is a lovely variety of colors, as well as snaps or touch tape to accommodate your personal preferences).
What is your least favorite?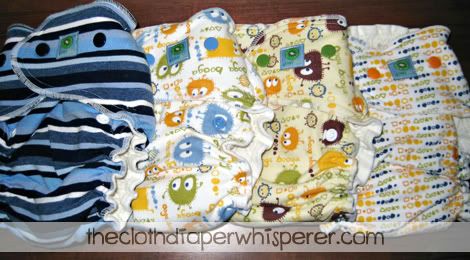 Previously I didn't quite understand the all the rage with
fitted diapers
. So, a couple months ago I convinced myself to buy a couple used
fitteds
when I noticed them online in the
Gently Used Diapers
category on
Kelly's Closet
(I do daily window shopping to add to my wish list). After trying them I still didn't quite "get it."
Fitteds
are so very soft and fluffy but since they require a diaper cover, I couldn't really appreciate the adorable prints!
However, most recently my little one developed a yeast rash and my husband kept complaining that his pocket diapers looked like they were too tight and the material was just "too hot" in his opinion (despite my assurance that the PUL fabric is relatively thin and does allow to air to circulate). He insisted on opening up the baby's diapers and leaving him exposed… I, on the other hand, was so fearful that
his sprinkler
might go off at any moment; so I grabbed the
fitteds
and put those on the baby instead. Upon inspection, my husband liked and approved the
fitteds
.
FANTASTIC! That just gave me an excuse to buy more diapers. With the rash, the
fitteds
allowed me to cover my little one with the wonderful softness of cloth, but also be more attentive to when he needed a change by going coverless (and I was then able to enjoy the cute and oh-so-soft fabrics).
Therefore, I'm hesitant to say that
fitteds
are my least favorite because I now appreciate them. The only downside is having to cover up all that lusciously soft and adorable fabric. (I *just* got my order of Kiwi Pie fitteds. I'm sooooo excited to try them out!)
What system do you use at night?
For my little man I use the use the
bumGenius One Size 3.0 pocket diapers
and occasionally some
Fuzzi Bunz Seconds
in Mediums. Surprisingly my little guy isn't currently a heavy wetter at night. I typically use either the two micro-terry inserts that come with each bumGenius One Size 3.0 diaper, or a prefold with a
bumGenius micro-terry doubler
.
Since both of my daughters are night-time wetters, I use Happy Heiny's Pocket Trainers stuffed with a premium prefold on my oldest daughter, and a variety of one size pocket diapers for my youngest darling daughter (usually bumGenius, Happy Heiny's, and Fuzzi Bunz).
There's nothing worse than being woken up in the middle of the night to the cries of,
"MAMA I LEAKED!"
Or having woken-up to find that I AM WET because the leak from the disposable pull-ups/diapers spread through the bed and over to me! Thanks to cloth diapers and training pants our bed sheets (and children's pajamas) are dry in the mornings!
Ps. My husband came home earlier than I had expected and happened to catch me taking pictures of the 'THE stash.'
"We really have ALL of these diapers!"
Accompanied by the priceless look on his face, I knew I had a lot of explaining to do! HAHA!