Marriage- what a wonderful gift. And I am truly blessed to be married to a most excellent man. When we said our vows three years ago we promised to love each other forever, to have and to hold for richer or poorer, in sickness and in health, til death do we part as long as we both shall live. Amen. Our vows should have been more to this effect:

I promise to love you for all your unconventional ideas- through two surprise and unexpectedly close together home births, through cloth diapers and the strange looks they bring from most of our friends and families, to have and to hold two babies who share our already too small bed as we adopt attachment-style parenting, through anticipated homeschooling and extended on demand nursing, as long as we both shall live. And I should have specified an addendum... and you, dear husband, will have the privilege of changing as many of those diapers as you like (even though cloth was my idea). And we will scrape the big girl poop off with our "special spatula" into our guest toilet- hoping and praying that no one will ever think that that particular utensil was mistakenly carried into the restroom by our oldest daughter, and should now be brought into the kitchen to be washed and used to flip eggs or to scoop out casserole...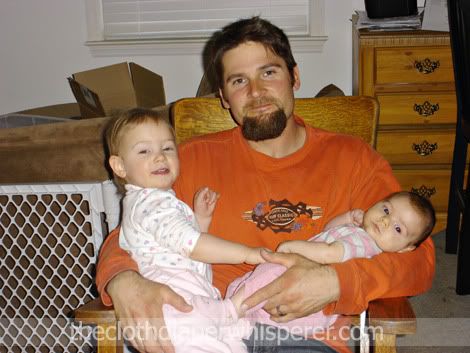 I have the honor of being able to stay at home with my daughters and therefore get to change their cloth diapers all day long. My husband is a hard working tree man (a certified arborist, to be precise) and he is the epitome of the hard-working outdoor manual laborer. His hands are extremely rough and calloused, his biceps bulge out of his shirts, and he has a massive goatee- all quintessential characteristics people think of when conjuring images of a lumberjack. He is tough and in control at work- gruffly barking orders to his crew.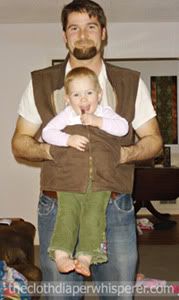 But then he steps foot into our home each evening around dinnertime and every aspect of both our daytime lives change. I go from being the in-charge, organized work-at-home mom who can juggle emails, nursing, nap times, dinner preparation, and temper tantrums simultaneously, to finally free to be vulnerable and weak. That is where my dear husband, the head of our small household, steps in. He walks quietly into the house, sneaks up the stairs, and immediately wraps me up with hugs and kisses. Then his calloused, loving hands pick up both of our girls (23 months and 7 months, however they were 19 months and 3 months old in the photos) and he holds them closely to his chest while whispering loving words into their ears, apologizing for being gone for so long and promising to be home sooner tomorrow. He wanders around aimlessly, cooing to them both and making sure that their individual love tanks are flowing over. Then he asks me if their diapers need to be changed, and the answer is always the same. "I'm not sure, but I'll check them in a minute." His reply echoes mine, "No need. You just rest. You've been busy all day. I'll change them." And he does. Every evening after he walks through the door, the diaper changes are transferred from my realm of duties to his. I get dinner finished up, pick up all the girls' toys, and we have the remainder of the night to chat about the day's work- the little successes, the new things the girls did, and how his business is faring. Diapers never again cross my mind until the next morning, when the responsibility is once again mine.

- by Mary K.