In 1952 this snazzy new idea was first patented, a lady by the name of Heller Max thought of this amazing way to adjust the length of the elastic area making each size fit a bigger range of people.
US Patent 1672017
shows the she invented button adjustments to fit securly unto a waist band to give the item an exact fit. This new way to adjust waists with an elastic strip secured by buttons was soon picked up by most major clothing companies and today we still use this idea focused especially now on children's apparel.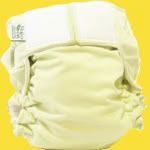 In early 2005 this now older idea became innovative when it was used in the cloth diaper industry. The company Mother's Eve was born and used the adjustable elastic idea to pull the rise of the diaper from bigger to small thus eliminating the adjustable snaps that clutter the front of the one size diaper. Although this diaper was a wonderful idea, it closed with a large piece of Velcro that some felt was bulky and unfortunately it fell by the way side.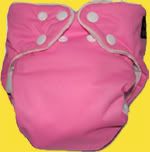 To find the next adjustable elastic diaper you must follow me half way around the world We will land in New Zealand where Baby Cheeks has developed, marketed and now has a patent on the adjustable leg elastic diaper. As a side note Rocky Mountain Diaper will never be sold or marketed to anyone in New Zealand or Australia in respect of their patent. They are a beautiful diaper with very cute trim like none we have ever seen.
Back in the USA, this idea is now spreading farther, In 2006 a company called Precious Dignity put in adjustable legs in its Clover Fitted Diaper, the diaper adjusts using buttons hole elastic to fine tune the leg fit. It also is the first diaper to have a replaceable leg elastic capabilities. While some might be concerned about sewn on buttons, there is no need to worry about that, Clover has hidden the elastic adjustments into a secure compartment that has no access for children and can be replaced easily. They also have a almost unheard of warranty that will out last not only the diaper but will still be active when you child goes off to college. This is a diaper worth checking out!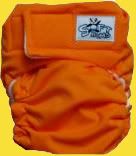 Sarah Van Bogart of
SoftBums
has been in the diaper making business for years now. She realized there was a real need for a diaper that fit all shapes. She soon started to perfecting her original
SoftBums
diaper and after many testers and lots of patterns she found the prefect fit! This Perfect Fit diaper uses elastic adjustments in the leg that holds tight. She is soon hoping to ramp up production and offer her diaper to retailers so more babies will be able to enjoy a "perfect fit." To check out these great diaper
click here
.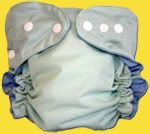 In 2007 I found out I was expecting again and couldn't wait to cloth diaper the new baby. After modifying several diapers that I had with this type of elastic casing I just decided to try a go at it and make my own. My little diaper soon became popular in my social circle and I found inspiration in our own backyard and named the diapers after the beautiful mountain range we call home. Although I wish I could say that our leg elastic was originally the one of Rocky Mountain Diapers, you can see, we are just a part of the ever expanding companies using the adjustable elastic idea of Heller Max.
- Provided by Tracie Whittemore, owner of Rocky Mountain Diapers