Do you remember
Carrie
? She was our winner from week 2, and she is now sharing with us her cloth diapering experience, and shares about the Wahmies One Size Diaper with FREE One Size Insert AND a Planet Wise Wet Bag that she won: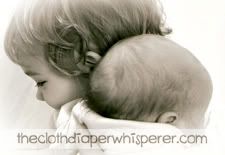 My cloth diaper journey began about two years ago. My son was several months old and I was just becoming more aware of my personal impact on our environment. The waste my little household produced was becoming a burden in my mind and I didn't know what to do about my newfound problem. While shopping in one of my favorite discount stores at the time, I came upon a box of gdiapers. I loved the idea of a flushable liner and bought the starter kit in the size appropriate for my son. With only two covers, I didn't get a chance to use these for each diaper change during the day. But every time I saved one diaper from the landfill, I felt a twinge of glee. My son grew, my family moved to another state, and I became pregnant. Disposable diapers were simply our standard.
One June day last summer, I simply decided that I could not keep mindlessly contributing diaper waste to our landfill and throwing hard-earned money down the drain. I feverishly googled anything and everything about cloth diapers and I was utterly overwhelmed by the range of products and prices out there. Who knew?! After initially getting discouraged and not even knowing how or where to begin, I gave myself a pep talk (since I don't personally know anyone else who cloth diapers her children) and decided to take one step at a time.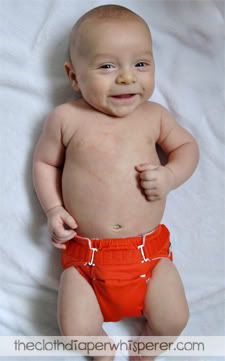 I learned about a one-size diaper option and figured that could be a good place to begin.
BumGenius 3.0
diapers seemed to get consistently positive reviews so that's how I began cloth diapering my son. The price per diaper, $17.95 also seemed overwhelming to me since one diaper doesn't last more than a couple hours on any child. I decided to go ahead with the purchase anyway. If I was unhappy and decided not to continue, I reasoned that I would re-sell the diapers. A couple days later, my 3 diapers arrived and I experienced the thrill of my first fluffy mail. I gave the three diapers a wash and Dylan (my son) wore them the next day. That was the day I became hooked. For the next several weeks, I found myself washing the three diapers every night and putting them on Dylan during the day. I felt such disappointment each time he went through his first three diapers of the day and had to finish with disposables. I decided that with each new paycheck, we could get another one or two diapers. The snail's pace of building my stash was discouraging, but at least the process was moving forward.
July brought three more
bG 3.0 diapers
. Also during July, I began figuring out what my new baby would wear on his bottom. His first diapers included
Kissaluvs fitteds
,
prefolds
,
Bummis covers
, and a couple small
Fuzzi Bunz
. During the summer and early fall months, I continued to buy diapers a little bit at a time. I gravitated toward one-size diapers but also mixed some sized pockets in as well. Wouldn't you know, the item I won in
week 2 of Fluff Fridays
Giveaways was a
Wahmies One Size Diaper with FREE One Size Insert
AND a
Planet Wise Wet Bag
!! I was thrilled!
The
Wahmies One Size Diaper
is perfect for little hands that love to take off a velcro diaper. The hooks that fit the diaper to my sons work to give a wonderful fit. My oldest son is long and lean and my baby is chunky so their body types are extremely different and this diaper works well on both. For those of you with big hands, though, beware the insert stuffing! My hands are on the larger size as far as women's hands go, and the small opening makes this diaper a pain to stuff…otherwise it would probably be my favorite one size with its soft lining and fabulous functioning.
Fast forward to today! It's hard to believe it's February and that I've been cloth diapering for eight months! I've built an adequate stash for my boys. I've also learned some things about myself and about cloth diapering along the way. Some of these lessons include...
* I love the smell of fresh diapers.
* I don't care for prefolds.
* There's really nothing cuter than a little boy (or girl, I will assume!) with a cloth bubble butt.
* I would have given up along the way if it weren't for flushable liners.
* Just because I have boys doesn't mean I can't enjoy girly wetbags.
* There is such thing as diaper envy and if I'm not careful, I am sucked in.
* My little family can make a difference in our world.
-
By Carrie G.