Many cloth diapering mama's opt for disposables when traveling because dealing with cloth on vacation seems like a daunting task. But in reality, it's not hard at all. In fact, by avoiding the use of disposables while traveling, you will have that much more money to spend on food and shopping while on your trip. With these simple steps, traveling with cloth can be a breeze...
1.) Plan Ahead Thinking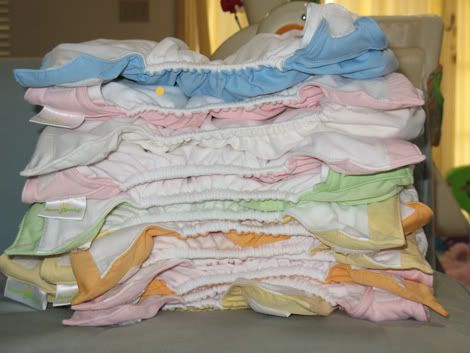 Think about how long you will be gone and, how many diapers you will most likely go through during that time frame. If it's just a weekend trip, you may not even need to worry about washing until you get home. But, if you will be gone for more than 2-3 days then you will want to think about where to wash your diapers. If your staying w/ friends or family, in most cases, washing should not be a problem. (But, as a courtesy, you may want to call ahead to ask if you can use their laundry facilities at least every 2 days.) If you will be staying in a hotel, call and find out where the closest laundry mat is and how much they charge per load, so that you can have plenty of change on hand.
If you are going to go somewhere without access to a washer / dryer (i.e. a cruise) and your trip is longer than 2-3 days, then at that point you may want to consider disposables.
2.) Packing List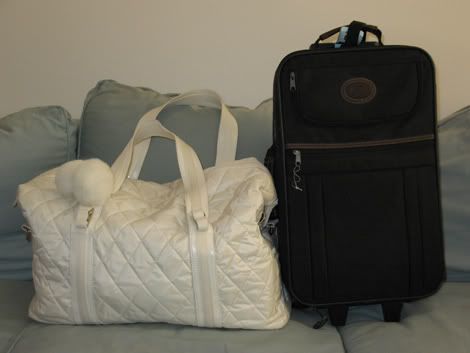 Write out your packing list to ensure you are fully prepared. Here is a general guide to go by & you can add / take away according to what best suits your needs:
Cloth Diapers & Accessories (this includes inserts, covers, pockets, pins & snappies)...plan on taking more than you initially think you would need...just in case.
Doubler's...for night time.
Ointment...in case of rash.
Barrier Cloths...to protect diapers in case you need to use ointment.
Detergent...that you use for cloth diapers...you don't want to risk having to use a detergent that could potentially ruin your diapers.
Cloth Wipes...enough to last between wash days.
Wipe Warmer...or something to hold wipes in if you like to keep them pre-moist.
Wet Bag
3.) Packing the bag(s)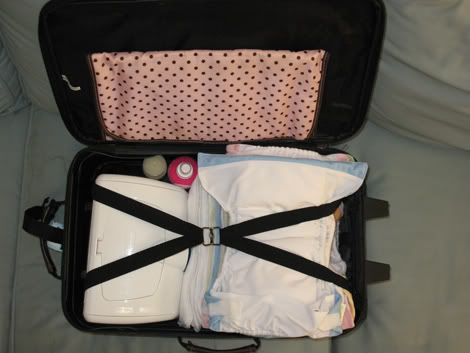 I feel the best way to pack your cloth diapers is to pre-stuff all of them (if applicable) and lay them flat on top of each other, staggering directions. Lay these in the suitcase (or luggage of choice) and then add everything else. Ensure that the detergent and ointment are both tightly sealed in bags and placed away from the actual diapers...just in case. I can easily get all of my cloth diapering supplies into a small (carry-on friendly) suitcase or a duffel bag of similar proportions. As you can see in the pictures, all of the same items fit fine in either choice.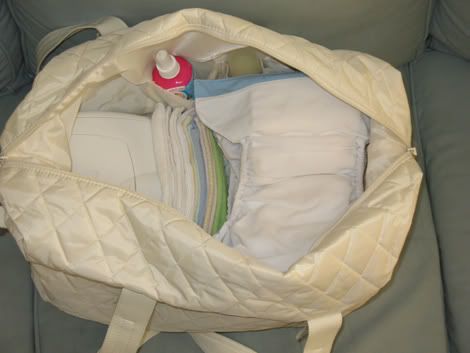 Actually, because a duffel bag expands in ways a structured suitcase can't, there was enough room to add food, bottles and snacks making it double as a diaper bag, which is great for air traveling.
4.) Wash Days
If your staying w/ family or friends and using their facilities for washing, then it should come just as easily and naturally as it does when you are at home. But if your staying in a hotel and will need to wash at a laundry mat, you may want to work out a plan. Plan to do it at a time when everyone is in veg-out mode and just wants to lounge around the hotel, watch T.V. or swim in the pool. That way the kids, husband etc. will be occupied while your washing & you wont feel rushed or like your missing anything. When you get back, have someone else stuff the diapers (if applicable) while you go for a swim or watch your favorite T.V. show. Then, on the next wash day, swap places so that your not the only one stuck doing laundry on vacation.
5.) Stay Organized
Even on vacation, it's important to designate a place for everything and to keep everything neatly in it's place. Especially in a hotel room. It's really easy to lose track of a bunch of small items if there is no organizational system. You wouldn't want your microfiber terry inserts to be mistaken for a towel or wash cloth and be taken away by a maid. Just place everything neatly in one area, and keep it there when it's not in use.
By following these steps, you will be able to keep you baby in the best and still have plenty of time to enjoy your vacation.
Happy Travels!!!
-By: Amanda G.