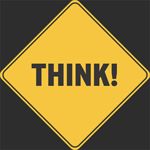 Many individuals tout disposables as the easier diapering choice. However, as all you cloth diapering parents know, disposables really aren't all that much easier than cloth. Yes, quite surprisingly, you will oftentimes hear cloth diapering parents say that, when traveling, disposables are easier.
Easier? Really?!?
Living in beautiful, sunny San Diego has its perks. Oftentimes our family will hit the road and drive to Orange County, Los Angeles and even Santa Barbara for a day or two of fun. I'm still trying to convince my hubster into driving to San Francisco for a three day getaway, but so far it's a no-go. Anyhow, being the cloth diapering enthusiast that I am, I insist on using cloth for all our road trips!

Here's my cloth diapering checklist for a two day trip:
°Wicker Laundry Basket
°16-18 pre-stuffed pocket diapers (I prefer to use my
bumGenius
and
Blueberry One-Size diapers
for traveling)
°Waterproof Changing pad and a toddler-sized Prefold diaper
°2 dozen wipes (already wet and ready to use, stored in a
small Planet Wise Black Curly Q wet bag
)
°Large Planet Wise Black Curly Q wet bag
(not pictured as it was in the wash so I used a substitute)
°
Basic Laundry wet bag
While on the road the laundry basket functions as my easily accessible storage center. I put it in the back of the car and remove items, as needed, from the basket (clean diaper, wipes, changing pad and wet bags) for each diaper change.

My general rule of thumb is to change my little guy every time we stop for a potty break and nursing session. After all, if I have to
go
, then he must have already gone too. Since I do more frequent changes I find I don't need to use a doubler (except for the nighttime diaper); the standard insert for both the
bumGenius
and
Blueberry One-Size diapers
works well alone. However the microfiber/hemp combo insert for the Blueberry does hold significantly more than the bumGenius microfiber only. I also use homemade fleece liners to better contain any
messes
. Although, flushable liners such as the
Bummis Bio-Soft liners
will work well too.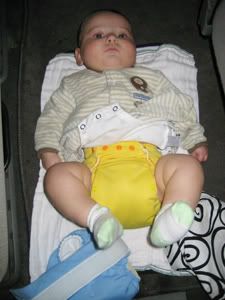 I prefer to change my little guy in the car, rather than trying to find a facility with a changing station. We have a minivan so I change him by laying him down on the floor of the van between the seats (alternatively, the front or back seat of any car will usually suffice too). I put any
messy
diapers into the
Large Planet Wise wet bag
(this wet bag does a phenomenal job at containing any smells). Pee-only diapers and wipes go into the
Basic Laundry wet
bag. When all is said and done – I return the stuff back to the laundry basket in the back of the van and we're on our way!
When we get home I restock any unused diapers and put any clean wipes into our wipe warmer. I dump the pee-only diapers/wipes directly from the wet bag into the diaper pail… then I proceed to rinse the
messy
diapers with our
Diaper Sprayer
before tossing them in the diaper pail too.
If you're already accustomed to cloth diapering then disposables aren't necessarily easier. Yes, disposables can be conveniently tossed into the trash never to be thought about again… but using cloth while traveling is really not that much trouble (especially for a 1-2 day trip). Besides, disposable diapers are made from plastics which prevent your child's skin from breathing properly. If your little one is going to be sitting for a considerable length of time, wouldn't it make more sense to pamper their bum in the wonderfully soft breathable cloth they are used to?

-
By Serena