Two teething four month olds + 30 diaper changes a day with 2 parents, 1 who works three 24 hour shifts a week + a cat who thinks he is a baby that needs bottles and diaper changes + a million and one tank and pond fish = WHEW - complete and utter chaos.
So you can imagine that when I announced the switch to cloth diapers, I was met with, "Are you insane?" "Why would you make things harder for yourself?" "Cloth? We used those in the 70's!" "You were given a million and one boxes of disposable diapers at your shower. Aren't you going to use those?"
Honestly? I had thought about cloth diapers for a mille-second as I spent 24 weeks on bedrest. I had plenty of time to do research, but it was so easy to ask for people to bring disposable diapers to my shower. I had a great changing table that would hold disposable diapers well in the drawer. I had a sister who had boy/girl preemie twins like me who would tell me which brand worked best with who and when.
But then it all changed. My son got a diaper rash and it wasn't your ordinary diaper rash. It turned to open wounds. It bled and my happy son turned into a miserable kid with parents who were reduced to tears every time they changed him. We tried every brand of diaper cream out there. We took him into the pediatrician twice and a medicated cream was suggested with a recommendation of airing his butt out and apply a nice dry heat. Great suggestion, but with a child who is fed breastmilk, poops every two hours and lives in the real world, how does one manage to find dry heat that won't burn him, get him to keep his butt propped up in the air all day long and really, how does one stop him from pooping?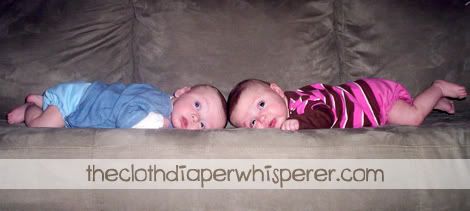 Going off breastmilk didn't help, prescription creams didn't help and finally, a burn cream was suggested. In the meantime, I had run to the store and bought some cloth diapers – ones you pin and wear plastic pants with. Guess what? The stores sell the cloth diapers BUT NO DIAPER PINS! Fed up and frustrated and heartbroken over my miserable son, I began looking at other cloth diaper options. I found a plethora of brands out there and within a few days, had three different brands to try. The
bumGenius
ones, in our minds, were sent from heaven. And with the help of silvadine cream and those plush diapers, a rash that consisted of open wounds for almost two months was gone in less than a week! And so we made the plunge –
bumGenius
was our choice and we entered the world of cloth diapers and felt DARN good about it.
Now, the big challenge arose. How would we keep organized with twins and a million and one diapers around that didn't fit in my perfect little diaper change table? I had to think of something that would work for us and would be easy to establish as a habit. And so our system was born.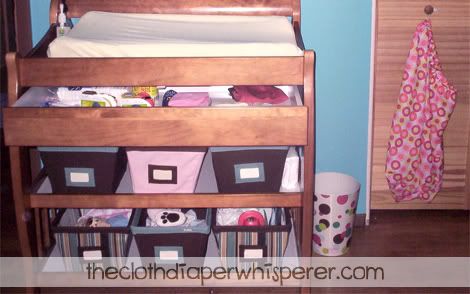 1. Every day, I do a load of diapers. It's a small load and I could go two days, but I just make it part of my routine (yes, I do take a day off each week).
2. After washing and drying them according to
bumGenius
' instructions, I bring them upstairs in the wet bag and dump them out on the couch.
3. While the kids are sleeping, I put all the inserts in the diapers right then and there. I usually get a chance to catch up on a television show, the news or a magazine that sits in a stack piled to the ceiling (well, not really, but almost).
4. Once all the diapers have been stuffed with the inserts and 2 of them have the overnight inserts in them, I put them in their designated spot – the dresser. I had to redo the drawers, but it's worth it.
5. I keep them all in the top dresser drawer. Prepped and ready diapers to the right, extra overnight pads in the middle and extra inserts on the left. We make sure we NEVER run out of diapers that are prepped and ready, especially when two kids are dirty and hungry!
6. And yes, we do use the drawer of the changing table still – we keep the soft and plush cloths from
Kelly's Closet
in there to use as our wipes.
7. Right to the side of the table hangs our diaper bag – ready to be filled and taken downstairs the next night.
This was the BEST change we have ever made and I'm PROUD to be using cloth diapers and to be doing my part for the environment. I'm sad I didn't start with them right away, but I'm a changed Mom and I found the right path finally – the path of environmentally friendly (and NO MORE DIAPER RASHES!). And the non-believers who thought we were nuts? They "oohed" and "ahhed" over the diapers, the design of them, the colors, the awesome sprayer to clean them, the bag to store them in until wash time - everything. And the funniest thing? At Christmas when we were with family and most people RUN from stinky diapers, we always seemed to have an audience when it was diaper change time. Bottom line, a little bit of organizing and a lot of believing = one big happy family and even happier little bums!
- By Sarah L.