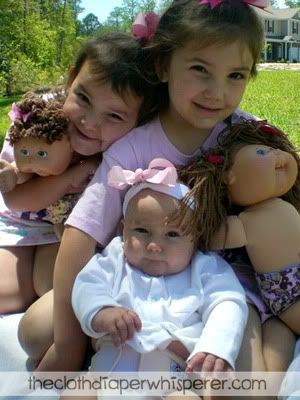 My girls were estatic when I won Fluff Friday! They could not believe soon they would have some cloth diapers for their baby dolls. It took them a while to decide which patterns to choose. But I knew they would want one diaper in the monkey print because I bought a burp cloth from a WAHM in the same print! The bumble bee and a flower print were the other diapers they decided on. Denai, from
Sew in Love
, is awesome to work with and the diapers turned out fantastic!
Obviously my daughters get their indecision from me! It took me a couple of weeks to decide what to spend my Kelly's Closet gift certificate on. I finally decided on a
Soft Bums
in light pink with the microfiber inserts. I can not believe how small it can be and how trim it is...absolutely amazing! I love the diaper and hope to add more to my stash in the future! Thank you,
Kelly's Closet
for a great blog with really cool giveaways!
Here is a photo of a
bumGenius
,
Happy Heinys
, and
Fuzzi Bunz
in one stack and 1
SoftBums
with three inserts for bulk comparisson: