Although we're a modest little company, Kelly's Closet has always been committed to giving back! We'd like to thank all of you who make this possible! Through your continued support we were able to donate $1,264 to Miracle Diapers and Share Pregnancy & Infant Loss Support for the month of May.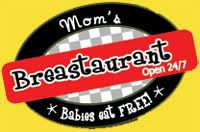 We're also proud to announce we are continuing our sponsorship of Mom's Breastaurant, an organization that attends various trade and community shows throughout the country to provide a comfortable and private space for moms to sit and nurse their babies. Check out their website to see if Mom's Breastaurant will be attending any events near you and/or to request their presence at an event in your hometown.

To read more about our philanthropic efforts please visit our new Philanthropy page at Kelly's Closet.