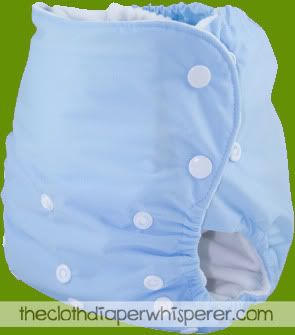 My name is Heather and I own and operate
Knickernappies
.
Knickernappies
is still a true work-at-home company: My husband Shannon packs orders and manages our inventory while I do the computer work and design new ideas. We don't have any staff, so it's just the two of us, and our daughter Camille! Camille will be 4 this summer and she's our big helper! The postcard instructions that come inside every Doorknob Diaper Pails - well, those are stuffed into the bags by Camille! That's her favorite job and she's very good at it.
We're proud to say ALL of our products are made in the United States by highly paid workers. The manufacturing facility who handles sewing our products is a wonderful and comfortable place, filled with lots of plants and plenty of light! The ladies love working for the owner and we appreciate them every day!
We may not sew our own diapers any longer, however, we still do make all the Fluff Dust ourselves! It's quite the operation and we usually make about 50 lbs of each s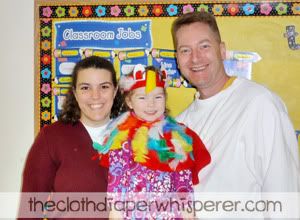 cent at a time. It gets pretty smelly so we often leave the garage door open. You should see the looks on the faces of people on the sidewalk...us with our baggies of white powder and our scale! But it smells so nice that they always ask what smells so good and we're able to explain what we're making.
We are thrilled to release the
Knickernappies OneSize diaper
. The first prototype was sewn at my kitchen table almost 2 years ago. Since then, we've been through at least 15 prototypes and 30 babies of all ages have put it through their own special tests. Our smallest testers were between 6 and 10 pounds and it tested very well with these tiny newborns. Our largest tester, Camille, is 40 lbs and still wearing her Knickernappies OneSize diapers at night.
When Knickernappies began we offered only two products; the Knickernappies diaper and the
LoopyDo insert
. In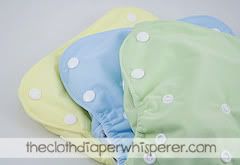 the last 3 1/2 years we've grown a lot! Now we offer a large variety of diapers, inserts, accessories, and more. I'm proud to say the
LoopyDo and SuperDo inserts
are the #1 and #2 ranked inserts on Diaper Pin! Thank you so much for supporting
Knickernappies
and providing jobs in Oregon/USA!
Knickernappies OneSize Side-Snapping Diaper
The Knickernappies OneSize Diaper
is the first of its kind: a side-snapping, onesize diaper that comes with TWO inserts made in the USA! (Yes, even our inserts are USA-made!)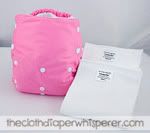 Knickernappies OneSize Diapers
have some great features:
* Four size adjustments to fit your baby best -- Small, Medium Short, Medium, and Large
* Tested to fit babies from about 8 lbs to 40 lbs
* Two inserts with every diaper, sizes small & large, and our inserts are Made in the USA!
* Choose between two top-rated
LoopyDo inserts
or two microfiber inserts.
* A scooped tummy panel & topstitching for best fit under chubby baby bellies
- Elastic on both sides of the pocket opening to hold the insert in place
* Very gentle Lastin elastic in the leg and waist - no red marks!
* Lastin elastic is long lasting and can't "go out" like regular elastic
* Two Year Guarantee on elastic and snaps.
* Also introducing a new color for Knickernappies: Chocolate! A fabulous new color perfect for boys or girls.
Give one a try! We know you'll love it.