What a fun week!!!! It has been lots of fun to read all your comments, and we are glad that you guys took the time to write them and share those special moments with us.
We have our winner and her story was:
Our neighbor (a 6 year old boy) asked why my 2 year old son wasn't wearing a "real" diaper. At the time, my son was wearing a Fuzzi Bunz snap diaper and I guess the neighbor, never having seen anything like it, didn't think it looked like a "real" diaper!
We are thrilled to announce the winner of our second Fluff Friday... She is: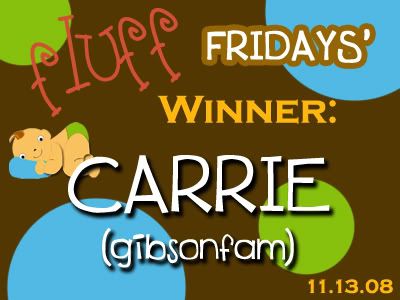 She has a Master in Counseling, and now is a very busy stay-at-home mom to her two little boys: Dylan (2 years old) and Tucker (1 month old). She started cloth diapering her oldest boy this past June and has been doing great since then!
Carrie:
Please,
contact us ASAP
with your mailing address so we can mail you your Wahmies and wet bag. CONGRATULATIONS!!!! And don't forget to send us a picture of of both of your boys using the diaper!!!
For those that didn't win, stay tune for tomorrow's coupon and for the new giveaway starting this Sunday!!