No one enjoys pooh-pourrie! However, when your little one hasn't had a bowel movement and the malodorous smells emanating from the diaper singe your nose hairs – clearly you have a problem with
the funk
!
Before discussing how to solve this stinky dilemma it's important to understand the source of the problem. The two main culprits causing stinky diapers are
detergent and/or hard water residue
and
bacteria
.
Detergent residues can build-up and lead to stinky diapers in addition to repellency, leaking and wicking issues. For those with [untreated] hard water, detergent and minerals are being deposited onto your diapers, causing some of the more offensive smells. Stripping is the only way to correct stink problems caused by residue and/or hard water.
There are numerous recommendations for stripping diapers. This is a topic that could provide days worth of posts. Ask a number of people how to strip – and you'll get a number of responses. However, it's very important to consider what type of cloth diaper(s) you will be stripping as some processes are not good or safe for all cloth diapers. All in one's and pocket diapers require a bit more care and caution as to not cause damage to the PUL and elastic. Flats, prefolds, and most inserts are easier to strip as the cotton and/or hemp fibers can tolerate alternative methods such as boiling water. Ultimately the best advice is to
keep it simple!
With that in mind – the simplest and usually safest way to strip detergent residue from nearly all diapers is to wash your diapers in hot water (with no detergent); followed by a cold rinse (warm rinses, if an option on your machine do work best at residue removal). Continue the hot wash and cold rinse cycles until no bubbles or cloudy water remain. (I would post alternative methods but this post would be much longer than it already is!)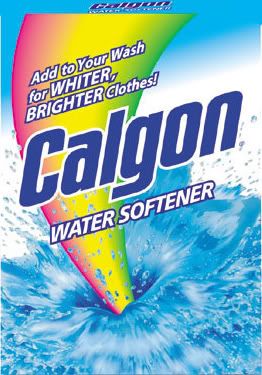 For those with hard water and mineral buildup, you will need to add a non-precipitating water softener (such as Calgon or Spring Rain) to the initial hot wash
and
to the initial cold rinse. Non-precipitating water softeners work to suspend the residues and mineral deposits in the water and prevent them from being re-deposited until they are rinsed away. (Note: Non-precipitating softeners also work relatively well for those with iron deposits in their water supply.)
Maintenance/Prevention: Add an additional rinse after your wash. If you notice your detergent not rinsing thoroughly after the additional rinse then you may consider adding vinegar to your rinse cycle. Vinegar serves a number of purposes; it works to restore the pH balance to your fabrics washed in highly basic/alkaline water, aids in removing residue deposits from detergents as well as mineral deposits, and naturally softens fabric and alleviates static cling. A little vinegar goes a long way, so a ¼ cup should work well.
Some diaper manufacturers do not recommend the use of additional vinegar or baking soda. I personally believe they discourage the use of additives altogether because most people are unaware of the appropriate amounts to use and using too much can be damaging to your diapers or even compound stink issues. However, I could be wrong.
Bacteria is the second most common culprit. Wet and soiled diapers are a natural breading ground for mold and bacteria. This is why it is especially important to wash your diapers frequently and use the hottest temperature possible. While most detergents are capable of thoroughly cleaning your diapers, some are not strong enough to rid your diapers of any residual bacteria. In all fairness, it's not the detergents fault. Most, if not all, detergents were designed for laundering
typical
household laundry not heavily soiled diapers.
If bacterial residue is causing your stinky diapers you will need to disinfect them. This process seems simple but is a bit tricky as the methods for disinfecting will vary greatly depending on what type(s) of diaper(s) you have. The more acceptable cloth diaper friendly disinfectants are oxygen bleach, vinegar, tea tree oil, and grapefruit seed extract. Lastly there's the B word: bleach. [I can hear some of your gasps!]
Again,
keep it simple!
It would be best to consult with your diaper and/or laundry detergent manufacturer for their recommendations regarding disinfecting. Disinfecting all in ones and pockets are more challenging than prefolds because special care must be made for the PUL.
Oxygen bleach does an excellent job at disinfecting when combined with very hot water and a bit of time to allow the compound to properly kill bacteria. Vinegar is also another option to disinfecting diapers; however since a larger amount is required to be effective (usually around 1 cup) it may not be the best option for all in one and pocket diapers. For effective disinfecting you would need to add it to your regular wash cycle (not the rinse cycle as previously recommended for detergent residue problems).
Tea tree oil is a natural essential oil with antibacterial, antiseptic and antifungal properties; therefore it also works great for diapers with yeast and mold problems. Although some will not recommend using this for all in one and pocket diapers you
may
still use this option so long as you use it sparingly (a few drops should suffice) and implement a very hot wash (or two) and an extra rinse to ensure the oil residues are thoroughly rinsing out.
I've also discovered grapefruit seed extract. It has antibacterial, antiviral, antiseptic and antifungal properties. It's excellent for laundering because, unlike tea tree oil, you do not have to worry about the oil residue. This option is also ideal for use during and after a nasty viral infection, such as Rotavirus.
Bleach is often recommended as the last stitch effort when all else has failed or when you want an immediate solution. I know, I know – bleach is typically considered the mother of all evils in the cloth diapering world but ultimately, it does get the job done when nothing else works.
bumGenius
is the only cloth diaper manufacturer I know of who approves of the occasional use of bleach, even for their all in one and pocket diapers with PUL! Of course 1 or 2 tablespoons is more than enough to be effective. I would personally recommend using the largest volume of water your machine can accommodate and allow the bleach to dilute in the water before adding the diapers. Since it is best to err on the side of caution, follow up with a hot water wash (no detergent) and an extra rinse.
Post contributed By Serena
[Disclaimer: Every caution has been taken to provide the readers with the most accurate and safe information as possible. Please use your discretion before taking any decisions based on the information in this blog. The author and/or blog owner will not be held liable if you suffer any loss or damage as a result of using the information provided in this blog.]- Thanks
French Toast Girl
for giving us permission to post her "smelly diaper" image.