When I say we get snow in Maine- we get snow. We live in the Western Foot Hills of Maine and the past 2 years we have received so much snow- it truly is unbelievable.

I knew there was supposed to be a big storm coming in Sunday night but hubby was so sweet and said he would watch the 3 kids for a few hours while I went to the movies. I don't get out much so I decided to take him up on the offer. I headed out about 6pm and went into the theatre to purchase my ticket. I decided to splurge a bit- well a lot- and loaded up on Sour Patch Kids and Chocolate Covered Cookie Dough Bits. I figured after going to Weight Watchers and loosing 52 lbs that I deserved a treat. My other thought that Riley nurses all the time. They say you burn 600 calories a day when you nurse. I swear I burn double that the way he nurses (LOL).

Speed up to the end of the movie. I come out of the theatre sugar charged and get into my Jeep. I call the house to check on the kids. All is well. Riley has been down for a bit and the Olivia and Hanz were reading. I decide I am going to go get a few items at the store. It had starting snowing quite a bit at this point and probably had 5 inches on the ground.

I went in the store and took my time. I was in there for an hour! I am so used to rushing around all time. I was a treat just to take my time. "Take my time" is not a term that I say very much!

I checked out and pushed my cart out to my Jeep. Oh my goodness...in an hour the storm turned into a blizzard. A 20 minute drive took about an hour to get home. We live 3 miles on top of hill and even with my 4 wheel drive and couldn't make it up. I found a place to turn around and drove around town to the other entrance of the road which had a less steep incline. I felt I was on one of those Jeep commercials on the top of the mountain. As I was going thru the unplowed dirt road the snow was literally flying over the top of the Jeep. I have to admit it was scary but in some way fun.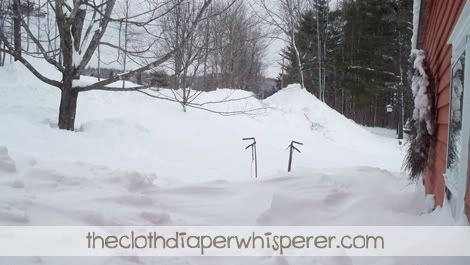 I walked into the house with the few things I purchased and headed to bed. All thru the night the power flickered on and off. By the time we all got up we had no power. We walked downstairs and opened the front door. With the drifts the snow was up to our necks. We could not get out the door. My two older kids exited the house thru our side shed door where the wind had blown and the door was easy to get out of. We all took turns shoveling and finally reached the road. Hurray!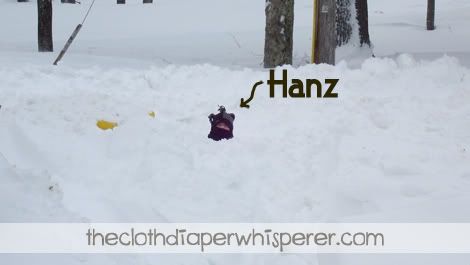 My hubby, Scott, went down mid morning to check on the shop- aka "Diaper World". He called on the phone and there was no power there either. Oh boy. We just had 170+ orders come in over the weekend. I was getting a bit stressed as I was afraid we might be days without power (yes, this has happened before)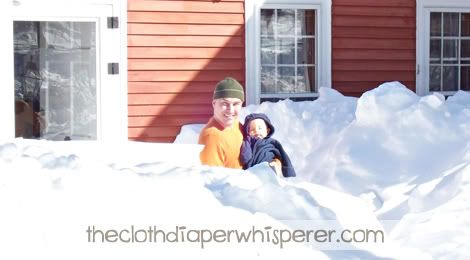 We do have a generator set-up at our house which is about a mile from the shop. I was able to get online with my wireless card (our cable was out so we didn't have the internet). Let me tell you the wireless card is my best insurance policy ever!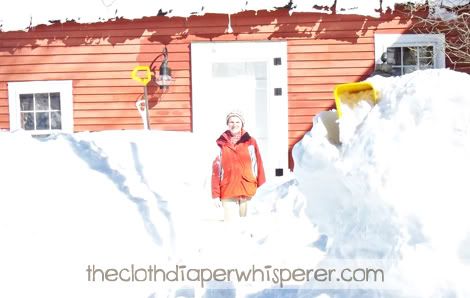 After the snow removal and the constant tending of fires we sat down, all five of us and just hung out and talked. Wow- it has be way too long when we just all sat down in one place. Usually Scott is on the road for work, the kids are at school, and Riley and I are at the shop. Without power it forces you to slow down a bit. I am a true believer that a "higher power" directs how our lives flow. This day was meant for us to get closer again as a family. It was nice to really re-connect with everyone as it was truly and fun and special day. Oh...and by the way...we received over 2 feet of snow!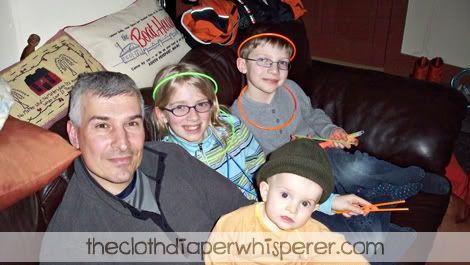 -
By Kelly Wels (aKa the Cloth Diaper Whisperer)