In building my stash for two I had no idea where to start. I jumped in the cloth diaper pool with my eyes closed and wallet open. The first purchase was 2
Fuzzi Bunz
, one pink and one blue. When they came in the mail, were washed and snapped on my little ones, I knew right away I needed more of these gems. At the same time I continued to order a few other types from online, and new diapers would show up almost every day! The UPS man was starting to wear a path from his truck to my front door.
I feel like I really was able to try a lot of different kinds whether its
pockets
,
AIOs
, or
fitteds
. We, like most I am sure, have our go-to diapers. Those diapers that you know will hold even if you little one downs a 8oz bottle and takes a 4 hour nap. Today, I still find that
Fuzzi Bunz
are our favorites but I have also fell in love with
Blueberry diapers
. And although I prefer the sized Blueberrys I feel most economical when I purchase the one size diapers.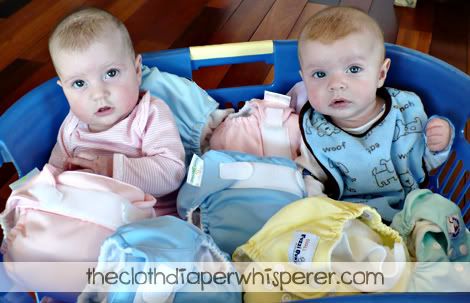 BumGenius one sized pockets
are our best friends at night. Our babies are sleeping from 10 to 12 hours and a double stuffed
BumGenius
keeps us leak free the whole time. Even if someone decides to do more than tinkle at 4am! I would say
Happy Heinys
are next on the list and after that its a tie for all the other brands that randomly congregate in my diaper storage. I have a few WAHM diapers that my babies still need to grow into and I am very excited to see how well those do in the future for us. And then there are
fitteds
. These were absolutely my least favorite. I know they have a cult following, but they were not for us. I gotta have my
pockets
!
Through my journey of finding the holy grail of diapers I realized that I quickly figured out what once intimidated me so. I know now that I prefer snaps over velcros, and that one size diapers make me feel frugal (Maybe not when buying in bulk, LOL!). I no longer feel like a cloth diaper poser who is trying so hard to belong. I figured out the code and it was absolutely worth the embarrassing amount of time I spent researching it all online! And now I find myself recruiting others and whispering down that lane of mothers just how wonderful cloth diapering really can be.
Amanda
Mom to James and Ella (3 1/2 months)