UPDATED (March 25, 2009)
Thank you to everyone who volunteered to be a Spotlight MOM! We've already gotten an overwhelming response - yeah! Jenny will touch base with many of you to fill out the questionnaire and get you spotlighted. We won't need new volunteers for a few months. If you have any questions or suggestions, please let us know!
Jenny@DiaperShops.com
.
---
Original Post:
You may have noticed a new feature on our blog called Spotlight MOM! This is a new monthly feature we're introducing where we put the spotlight on the extraordinary and hardworking moms like YOU! All the women we feature are pro-cloth diapers and manage to be super moms and super women (us moms are truly amazing!!).
If you'd like to become a Spotlight MOM, please email
Jenny
. Please tell her why you'd like to be "Spotlighted" in four sentences or less. If chosen, Jenny will send you a questionnaire to fill out along with a
$25 thank you coupon
good at any
DiaperShops.com
store. We will be spotlighting two women per month.
Please help me welcome our first two Spotlight MOMs, Angela from Virginia, and Shawna from North Carolina.
Meet SUPER Shawna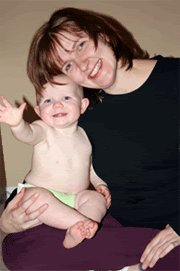 Name: Shawna
Hometown: Raleigh, NC
Mom to: Kailan (6), Nathan (2), Morgan (1) and one on the way
Occupation: Stay-at-home-mom
Stats: Woke up today at 6:00 am
Wishes she woke up at 8:00 am
Dinner tonight is pizza
Cloth diapers to save money
When you're not home with your baby, where can you be found? In the van with my baby!
What is your absolute favorite cloth diaper brand and why? FuzziBunz because they fit my daughter the best and I prefer snaps over Velcro.
How long have you been cloth diapering and for how many children? I've only been cloth diapering for three months. I started out trying to cloth diaper my youngest daughter and my 2 year old son, but he's ready for potty training so I decided to hold off on him. I plan to cloth diaper my daughter who is due in May.
Meet AMAZING Angela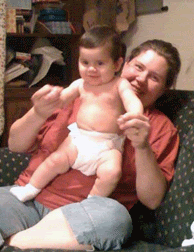 Name: Angela
Hometown: Milford, VA
Mom to: Cassie (6), Seth (4), Grace (3), Glory (2), and Frank (8 mos)
Occupation: Home manager and volunteer
Stats: Woke up today at 7:00 am
Wishes she woke up around lunchtime
Dinner tonight is leftovers

How long have you been cloth diapering? On and off for six years and for all five of my children!
What is the strangest comment you've gotten about cloth diapering? One of my friends said she was "natural" but drew the line with diapers. She said, "No way are we going to use cloth!" Last time I checked she was using FuzziBunz full-time for her two kids.
What is one "mom invention" you wish you came up with? FuzziBunz and bumGenius – because then I'd have free diapers AND an income!
If you could have one superpower, what would it be and why? I'd like to have a remote control to control the elements of time - like a pause button so I could catch up on sleep and housework!