Cloth diapering provides additional hilarity to an already amusing time in our lives as parents, when funny and silly stories are aplenty! However, what about the silly things we do?
The other day I was feeling really crummy. I was tired, I had a headache and my tummy wasn't feeling so great – the whole nine yards. As we sat down for dinner I was not even in the mood to eat so my oldest daughter, Aaliyah, asked
"Mama, why aren't you eating?""I don't feel good sweetie. I have cramps."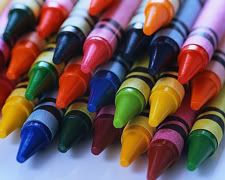 Well, we all know how well children actually hear sometimes – so she asked with the funniest confused expression,
"You have CRAYONS?"
LOL! Ok, so I could see if she had mistaken crabs for cramps, but crayons?
"No, sweetie… mama has pains in her belly.""Ohhhh… you have paints and crayons in your belly."
Honestly, it hurt to laugh but I just couldn't help myself! I suppose that would make all the sense in the world for a 4 year old… after all, can anyone imagine feeling well if they had paints and crayons inside their belly?
My husband, seizing the opportunity to tease me, told my daughter,
"You're just going to have to get used to your mommy. She never feels good."
Naturally I tried to defend despite knowing my husband was teasing… so went on to say I wasn't sure what in the world was causing the pain. I knew I wasn't pregnant (I had taken at least 5 pregnancy tests in the last few months just to be sure since I'm a
Fertile Myrtle
) – and my cycle hadn't retuned since the baby was born nearly 6 months ago…
Well, lo and behold – a few hours later I discovered the problem. It turned out my cycle finally decided to return. Unfortunately, I was fully unprepared. Ok, so I had a panty liner… ummm, yeah that wasn't going to work for the ensuing tidal wave. I was also in absolutely no mood to go to the store so I asked dear hubby, despite knowing his answer before even asking, if he would go to the store and buy me something.
He looked at me, laughed and pointed in the direction of the changing table and said,
"You've got all these diapers over there. Why not use those?"
Men are soooo amusing, eh?!?
"I'm NOT wearing a diaper!" "Well, you said you like to use natural stuff. How do you think the women did it back in the day? They used cloth." "Yeah, well… I'm not using my son's diapers."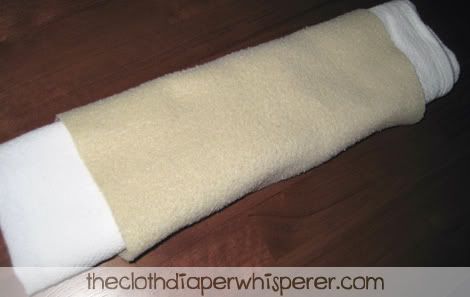 Unfortunately, however, I needed something in a hurry! So with virtually no other options available I grabb
ed a
flat diaper
and folded it several times to the size of a maxi-pad and placed a homemade fleece liner on top. It felt very awkward wearing a monstrous sized makeshift cloth pad - but you know what? It worked!
Serves me right for not ordering some
Mama Pads
ahead of time from
Kelly's Closet
knowing full well I would need them eventually… always better to be prepared ahead of time! However, I'm definitely looking forward to the
Diva Cup
which will be available at
Kelly's Closet
, hopefully this week (this is a great alternative to pads – although I'd still like some for backup)!
- By Serena