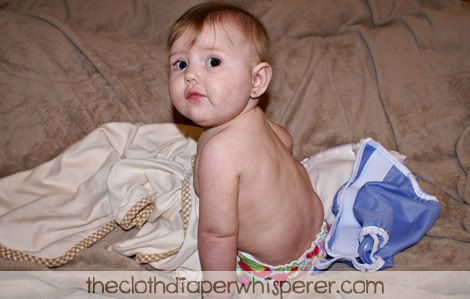 The
wipes
were the surprise and they went right into my stash of wipes. I had some old
Kissaluvs wipes
from two kids ago and it was so nice to get new ones that were nice and thick. These are the perfect poo removing wipes.
The
Kissaluvs Soothing Baby Blanket
is so large and soft. I could swaddle my 6 month old in it... You do not find too many of that size blanket. It is also really lite weight so it makes the perfect nursing cover. It beca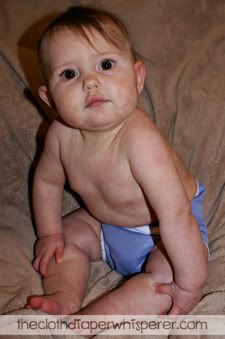 me one of our favorite blankets.
It was also nice to get a new
fitted
, it was so nice and thick, again my others have been through two other children. I love them for the day time and in the summer we use them when it is hot out without a cover.
I had never used a
Thirsties cover
and I think I fell in love the minute I put it on her. The colors are great, we got the lavender one and I had to go out and buy another.
Lastly the one size fitted, it is so cute and so absorbent. It is nothing like the fitted diapers. It is soft, soft, soft on the inside and cute flannel on the outside. It also comes with its very own doubler that makes it perfect for night and day use. It also has a wide range of buttoning options and a fold down in the front to lower the rise. Again, super cute and very absorbent.
We love our winnings they are used every other day with our
BGs
and
HHs
. I hope to be able to try more brands of diapers, but thank you for adding to my stash, it is always fun to try new diapers, and get them in the mail.

- By Angela