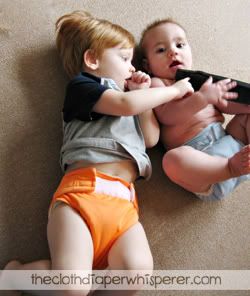 We are currently cloth diapering 2 boys under 2. Keaton is 23 months and Benjamin is almost 7 months. We started cloth when Keaton was about 8 months old and we found out about #2 coming. We knew that the cost of buying diapers for two would drain us immediately.
I had a friend send me some Pocket Change diapers to start with. We loved these and immediately ordered more. We also purchased 6
BG3.0
to try. I knew immediately I did not care for these, and I was right. They've caused problems from day one. The main problem I have with them is the "BG train" that comes out of the wash. The velcro never stays on the wash tabs. I saw a suggestion to place the tabs on the front, but they still came off. Also, these are the only diapers my 22 month old has ever been able to figure out how to get off.
As Keaton grew bigger and outgrew the Medium sized diapers, I got brave and started trying other brands of diapers. Filling Benjamin's stash was when I really went all out and experimented with various types.
Currently the boys' stashes look like this:
Keaton (23 months) -
1 Large Pocket Change
6
BumGenius 3.0
1
Large Happy Heinys

3
Large Bummis Wraps

1
Baby Kangas
6
Prefolds
24
cloth wipes
Benjamin (7 months) -
1
Medium Happy Heinys
6 Medium Pocket Change
1 Bamboozle
2 Medium Nana's Bottoms
1
Medium Thirsties Fab Fitted

1
Medium Bummis Wrap
6 diapers made by friends
24
cloth wipes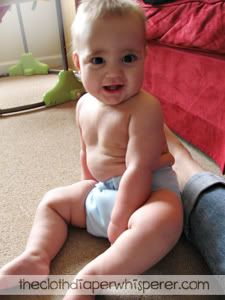 Benjamin was 8lbs.5oz. at birth. His 'girth' combined with him developing thrush at 2 weeks didn't allow him to stay in teeny-tiny cloth diapers for very long (Our LC suggested we not use the cloth because the yeast would live in the diaper and be very hard to get rid of. I never researched this, I was too tired at 2 weeks post-partum to worry about it) but our stash for him included the following:
3
extra-small Thirsties AIOs
(v.1)
4
extra-small Thirsties Fab Fitted

3
extra-small Thirsties Covers

2, size 0,
Kissaluvs

1 newborn and 1 small Prowraps covers
6
prefolds

6 Months ago, I would have said that Pocket Change diapers were by far our favorite. But, that has since changed. I do love the
Thirsties Fab Fitted
- how soft are they?!??! Oh my! But, my new favorite is
Happy Heinys
. As we are no where near Potty training Keaton, and Benjamin continues to grow quickly towards needing large diapers, I see myself replacing the
BG's
with
HH's
.
If I were to rank our diapers from favorite to least favorite my list would look like this (1 being the highest rank).
8.
Prefolds
(I'm just not a PF gal!)
7.
Baby Kanga
6. Friends' diapers (they don't seem to be as absorbent as other diapers)
5.
BG 3.0
4. Bamboozle with Bummis Wraps
3. Pocket Change
2.
Thirsties Fab Fitted
with
Bummis Wraps
1.
Happy Heinys
We love our cloth diapers and are so thrilled we took the plunge 14 months ago!
- by Terra J.
Follow her on her
blog
.