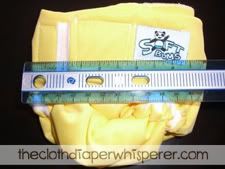 Here are my initial impressions and thoughts after seeing/using Softbums:
First Impression: Oh my goodness..these are soo tiny and cute! They come sized all the way down and honestly made me want to have another baby. I can definitely imagine a newborn baby wearing these. Unlike some other One Size Diapers, these definitely look teeny tiny like newborns and don't have all of the bunch between the legs. They are definitely trim fitting.
Second: These are INCREDIBLY soft inside! The lining is just oh, so soft. I kinda wanted to cuddle them...
Third: I wonder how they get bigger and smaller? ~At the top of the front of the diaper there is a little opening. Inside is ela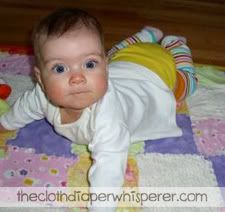 stic with a knot in the top. I pulled on it for a while, not sure what to do then decided to look at the directions. Further down, next to the leg gussets, there were two "toggles," one on each side. They are very small and in no way would bother the baby. To size the diaper you only have to push in the toggle button, pull the elastic the direction that you would like and release the toggle button...VERY EASY!
A great thing about these diapers is that there are SO many different sizes you can have! Sarah V (creator of this amazing diaper) recommended that I size it a little bit tighter then I think it should go to prevent leaks. She said that if there are red marks on the baby after a change then it is TOO tight, so loosen it about 1 inch. When first sizing them, it was trial and error, but after finding that "Perfect Fit," I simply matched up the elastic on the other diapers to make them all the same size.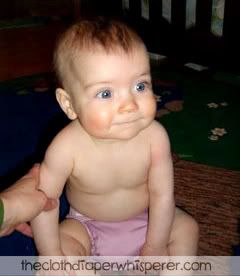 The insert is REALLY long! But when put in the diaper and folded to add absorbency to where Kinsley needed it the most, it did not seem long or bulky at all! (A smaller insert can be used when the baby is on its tiniest setting.) Now that Kinsley is rolling all over the place it can be a bit tricky at times to get it to lay flat, but make sure it is flat or else there will be leaks!
One thing that I have always felt bad about when cloth diapering is how it often looks like Kinsley is sitting on a horse or something because of the wideness of the diapers. These diapers are so trim and skinny that I feel much better about it! (Kinsley seems to notice the difference as well and is rolling MUCH more than before).
LESS room in the diaper bag!!! These diapers take up a bit less room in the diaper bag than prefolds and TONS less room than pocket diapers.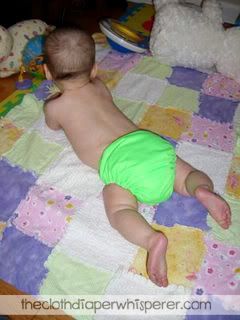 These diapers are great for the environment. And I don't just mean better for the environment because they are cloth, but better because there is less material. The covers are used more than once, so you need less so there is less items being created and therefore being wasted in production. Plus, there is less in the wash than if pockets would be used (and if you have a washing machine that adds water, spins, etc based on weight then less energy is being used.)
Now that I have used these diapers for a few weeks, I am pleased to say that I am VERY happy with them. They fit Kinsley great. It did take a little bit to figure out the perfect size, but all that meant is a bit of wicking around the legs, which never even reached passed Kinsley's base layer. I have never had any trouble with them in the wash (no diaper trains here) and they still look brand new (and I wash all of them every two days or so).
Overall, I really like these diapers. My husband likes using them a lot more than prefolds and covers due to their quickness and my mom likes them better because she was scared of snappis. I love them the most because they are trimmer AND because I finally allowed myself to get a pink diaper:) The one thing I would change is to include another snap to help keep the liner in place while changing a baby that is doing crocodile death roll and have the PUL go a little further into the diaper to prevent wicking.
Thanks for the great prize!
- By Sara M.