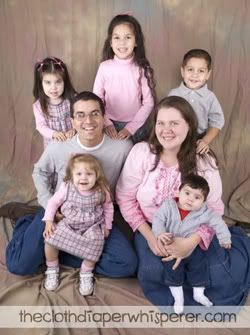 As I read the post "
Diapering Times Two!
" post I remembered I had written about one of my adventures from a couple of months ago! I thought you and yours might get a laugh out of it, since you all can appreciate a good cloth diaper story.
I was sitting on my favorite chair with my children, watching Toy Story 2, when suddenly there was an abnormally intense stench of poop. I looked down to notice that Glory, my two-year-old, had taken her poopie
FuzziBunz
off (again!) and placed it on my chest, and the big ball of poop rolled out onto my shirt.
(note: when you have five little kids climbing on you, spitting on you, hugging and delivering toys, shoes, and miscellaneous items from all over the house, then you can kind of understand how she could plop a diaper on my chest while I'm zoned out in front of a movie without noticing...)
UGH! I scooped the poop back into the cloth diaper and grabbed Glory's hand; off to the changing table we go, poop smeared down her legs. I plopped the poo in the toilet and then plopped Glory on the changing table. Alas, out of cloth wipes!
I scrounge around for a dirty shirt, or something, and dunk it into my wipes solution. By now her poo has smeared all over the changing table that didn't have a cover on it (can someone say LAUNDRY BACKED-UP?). She holds up her dainty little hand to show me it's covered with poop. I wipe off her hand, finish diapering her, and then go wash her hands. Meanwhile, Frank (my then 7 months old) starts crying.
After finishing Glory off I went out to the livingroom and fetched Frank out of his Johnny-Jumper. Mother knows... he must have pooped.
So back to the changing table I went. Upon opening up his
FuzziBunz
I saw exactly what I expected- only worse! Because he was in his Jumper the poo had gone up his back. (but thankfully not out the back of the diaper- gotta love those
FuzziBunz
!)
OOPS! I forgot! I don't have any wipes! So I left Frank on the changing table and went scrounging for something, ANYTHING, that could resemble a cloth wipe. I grabbed an old sock. But while I was gone not only did he smear that which was still stuck on his rear onto the changing table, but he was also kicking the dirty diaper, so his feet were also covered with poop.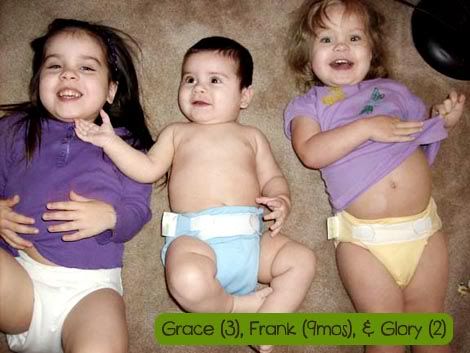 I grabbed another dirty shirt to use as a barrier between his rear and the changing table pad, went to dunk the sock into the wipes water to find that the wipes water tub was out of water!!!!!!!!! So I ran to the sink and filled it quick, returned to the table, wiped Frank down and got him new clothes. Don't forget, I had a poop ball on my chest before all this started, and the stench reminded me. So I changed into a fresh shirt and sprayed his dirty diaper out with the
diaper sprayer
!
When I returned to the other four children they were still quietly watching the movie... except for a few stray chunks of fried chicken on the living room floor that Glory had got into while I was diapering Frank, the house had gone unscathed during my diapering adventures. I sat down on the couch with the kids and...
.... Frank threw up on my clean shirt.
Ahhhh, the adventures of parenting! Life would be so boring without children!


- Angela, Wife to: Sonny; Mom to: Cassie, Seth, Grace, Glory & Frank