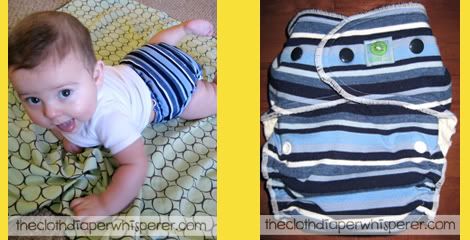 Kiwi Pie diapers and products, such as the Kiwi Peel Wool Covers and WindPro Fleece covers are all handmade right here in the USA by the wonderful folks at
The Natural Baby Company
.
What makes the Kiwi Pie fitted diaper so special?
Unlike other one size fitted diapers on the market, these are not only cute to look at, but these are so soft, stretchy and really absorbent!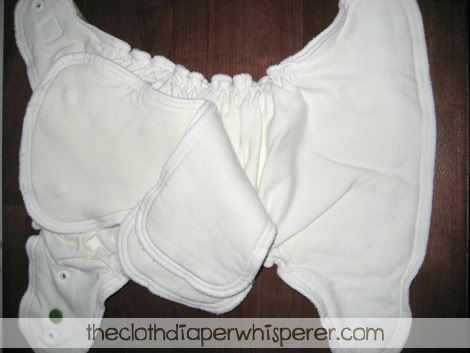 The diapers are made from a smooth texture bamboo fleece with a unique blend of bamboo and Lycra to give the diapers just that little bit of stretch. I have yet to try a fitted diaper that not only fits well but is oh-so-soft inside and out, while looking and feeling comfortable for baby all at the same time!

Each diaper comes with 2 sized lay-in soakers. These soakers can be used individually or snapped together and used in combination for maximum absorbency, without any significant bulk added! The lay-in soakers are great because:



You don't have to worry about snapping it into place: You can adjust the location of the soaker to fit your little ones needs higher up front for a boy centered/higher up back for a girl

One of the highlights of this diaper which sets it apart from the other one-size fitted diapers is the hidden snaps at the waist! Other well loved one size fitted diapers utilize two rows of exposed snaps along the waist – and all too often these snaps create an unsightly red "snap belt" at the waist. Not a concern with the Kiwi Pie!


Additionally, Kiwi Pie eliminated the need for multiple rows of snaps entirely by utilizing the same quick and easy front snap rise adjustment like some of the beloved one size pocket diapers. Only one row of fully enclosed snaps so your little one's skin is never in direct contact with a snap… FANTASTIC!
The cute factor: Kiwi Pie utilizes some of the cutest and colorful prints available for both boys and girls! Ooga Booga is our personal favorite – my daughter calls it the "germ" diaper… because the little Ooga Boogas look like the germs from a poster at our doctor's office!
Lastly, the
Kiwi Pie diapers
are reasonably priced for the quality and the materials used… so help yourself, and your little one, to a slice of these wonderful
Kiwi Pie diapers
today!