Four years ago, when my son was a baby, I was definitely not a babywearer. I had seen a Snugli once and someone recommended it to me so I put it on my baby registry. I didn't think much of it. My mother-in-law bought it for me. So, I used it, occasionally. There were a few grocery store trips that it helped with and one airport stint that it came in handy. But I mostly found it awkward and uncomfortable.
So, when I was pregnant with my daughter I did not really intend to wear her. I kind of wanted to get a different baby carrier (I was thinking of a sling) for those first few weeks but I really did not want to spend the money on something I only expected to use for a few weeks. I got the snugli back out. I figured I would make do.
Then she came along and she wanted to be held ALL THE TIME. She was not calm and quiet, like her brother. Nope, my daughter takes after her mommy - she is loud and opinionated. She wanted mommy. And I was not available to her as much as I was when her brother was a baby. I run a small daycare in my house and I had four children here besides her and her brother. They were five, one, three and two. Did you catch that I was caring for an infant, a one year old, a two year old, a three year old, a four year old and a five year old. Something had to be done.
So, a friend lent me a ring sling but I could never get a handle on it. It was okay if she was sleeping but I never felt like she was secure in there. So, we went back to the uncomfortable Snugli.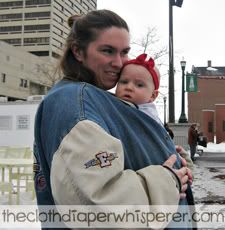 The problem was that she was three months old (way older than I had expected to use the thing) with no end in sight. Luckily, it was Christmas time and my mother-in-law asked Hubby what I wanted for Christmas. I remembered that I had seen a woman in a
Moby wrap
at the local children's museum. I did some research on the
Moby
and told Hubby that I really wanted it.
A few weeks later, I had it in my hands. I tried it out right away and it was love at first wrap. Even before I put my daughter in it I loved it. It felt like I was wearing nothing. Then I put her in and we were very happy campers. She was all snuggled in to me and I was able to keep her there indefinitely. It was so comfy. There were no pressure points, no pulling on my back, just ease and comfort.
Since then she and I have been everywhere with her in there. We walked around Washington DC, we have been to a multitude of hockey games, we have played out sid
e with all those big kids and we have gone about the house doing everyday activities.
The funny thing is now I feel like I have no idea how I got along without the wrap when Big Brother was a baby. If she is fussing, she will calm right down and start smiling as soon as she sees it. She sleeps in there while I jump around and celebrate when my team gets a goal or wins a game (we are a hockey family). And, if I am being 100% honest, I just love having her there. Getting to snuggle with her at any moment, taking her outside all wrapped up and inside my coat. It is a very special time and soon enough she will be running around and leaving me in the dust. So, at least for now I can wrap her up in my
Moby
and keep her close.
-
Upstatemomof3