Moby Wrap Inc. was founded in 2003 by parents with a passion for babywearing who saw the need for a more comfortable, secure and versatile way to carry their infants. Since its inception, Moby Wrap Inc. has expanded its product line to include innovative designs in a gorgeous array of colors, prints and fabrics, including UV protected and organic cotton.
A
Moby Wrap
is a long piece of ultra soft, breathable cotton that is wrapped around the wearer to create a safe, ergonomic, custom-fitted and versatile baby carrier. Able to comfortably and securely hold babies from preemie to 35lbs,
Moby Wraps
are the only baby carrier you'll ever need! They are recommended by pediatricians, childbirth educators, NICU nurses, lactation consultants and chiropractors.
Moby Wraps
are one size so they can be easily shared by all caregivers in the family.
Moby Wrap, Inc. was created by two mothers in search of the perfect baby carrier. After extensive research, including the sampling of countless slings and wraps, their solution was a variation of a time-tested European carrier. Wherever they went, they would be approached by people wanting one, and it wasn't long before the constant demand put the two moms in the supply business.
Using the softest of cotton fabrics, the
Moby Wrap
(mother and baby) is by far the most comfortable baby carrier available today. It distributes weight evenly from parent's shoulders to hips and aligns baby's center of gravity as close to the parent's body as possible.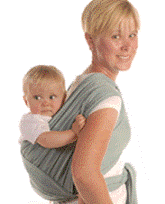 MOBY WRAP

* Our original 100% cotton baby carrier.
* 5.5 meters in length
* UV version is treated with the Rayosan Process to increase the sun protection factor of the fabric (available in three colors)
* Affordable for all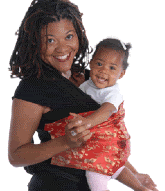 MOBY D

* Designed with an off-center fabric panel made of luxurious Asian brocade, hand woven cotton or plush microfleece
* Ties on the hip of the babywearer
* Shorter than the Moby Wrap — 5 meters in length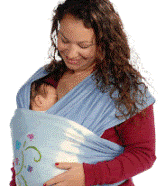 MOBY SELECT
* Batik print (two colors) or organic (un-dyed)
* Same comfortable material and fit as the original Moby Wrap
* Newest addition to our product line
Be comfortable
The design of the Moby™ Wrap uses your entire back, as well as your shoulders, to carry the weight of your baby. Unlike other carriers, which have narrow straps or go across one shoulder, the Moby™ Wrap is a wide piece of fabric that is wrapped over both shoulders. It is amazingly comfortable and easy to wear. There are no buckles, snaps or other fasteners. It is easy to adjust the fit of your Moby™ Wrap by varying how tightly you wrap yourself and your baby.
Be secure

The
Moby Wrap
comes with an easy to follow instructional guide and this web site with the latest news, tips and techniques. With the single stretch cotton and the width of the
Moby Wrap
, your baby is wrapped close and tight, ensuring a secure hold. Your baby's head can also be secured under the stretchy cotton fabric for added safety. You can finally have both hands free and know your baby is safe and secure.
Be uniquely close to your baby

There is not a lot of extra material or bulky padding between you and your baby. Your baby can hear your heartbeat and finds comfort in the warmth of your body,and sound of your heartbeat within the cuddly confines of the
Moby Wrap
.
Preemie to 35 lbs.
The
Moby Wrap
is an optimal baby carrier for premature infants. Preemies are often prescribed to practice "kangaroo care" and this skin-to-skin practice used to increase birth weight can be easily achieved while wearing the
Moby Wrap
. The
Moby Wrap
is long enough to adapt to your growing baby. The fabric can hold up to 45 lbs, and most people feel comfortable carrying up to 35 lbs.
Soothes fussy babies
It is amazing how quickly a baby will settle down once wrapped in the
Moby Wrap
. Experts like Dr. Sears, stress the importance of holding your baby often and close. The
Moby Wrap
allows you to do this with ease. The style of the wrap insures your baby is uniquely close, while providing ultimate comfort and support. No more aching backs or tired arms! Now your baby can be kept close and happy for as long as he or she desires.
Versatile

There are many ways to wear your
Moby Wrap
. You can wear your baby facing you, facing the world, sideways or on your back. When not being used as a carrier, the
Moby
can be used as blanket, pillow or anything else that comes to mind.
Machine washable
The
Moby Wrap
is easy to clean. You can machine wash your
Moby
in cold water and tumble dry low. Slight shrinkage after washing may occur. Once you start wearing your
Moby
again, it will stretch out.