Today, my hubster decided to give me a break from the kids (only my girls because my little man is strictly breastfed so he remains mama's little sidekick). He wanted me to rest, but last week I was terribly sick and had quite a bit of unfinished projects I needed to tackle so I wanted to put the quiet time to good use and get some work done.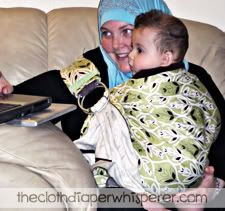 Unfortunately, however, my little guy is teething. OH YEAH! For those of you've "been there, done that" you know exactly how much quiet time you get with a teething baby – a whole lot of NADA! I really needed to get this post wrapped up when Anelys, our wonderful blog creator and maintainer guru, told me to get Ilyas in my wrap and write about that. Now why didn't I think about that? DUH!
So here we are; Ilyas quite content while he's cradled in the sling and I'm sitting in my "office", which is actually the corner cushion of my couch with my laptop nestled between the arm of the couch and end table – LOL.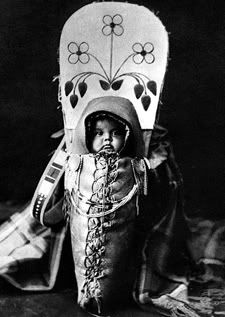 For centuries, people from various cultures have worn their babies as a means of soothing, bonding as well as carry on with their duties for daily life while caring for their infants at the same time. Here's a wonderful picture of a
Nez Perce Indian Cradleboard*
. This adorable little baby looks like a stuffed sugar cone!
While we clearly understand baby wearing is not a new phenomenon, we've certainly modernized the concept and made it quite fashionable (and dare I say trendy?) to boot! 4 ½+ years ago when my first child was born there were a number of slings and wraps on the market but not nearly the vast selection of options/styles and gorgeous colors and prints available today.
Like cloth diapers, I've tried the breadth of baby wearing devices; ring slings, pouches, soft sided carriers, Mei Tais, wraps, etc… Having a long history of neck and back problems it was a challenge finding something comfortable yet supportive. I LOVE my ring slings for quick
out and about
errands.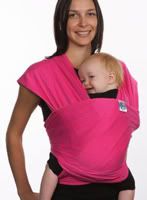 They go on and come off quickly, even with a sleeping baby! However, I can only go an hour or two tops before I'm in unbearable pain (since baby's weight isn't thoroughly distributed with a ring sling).
So, at the end of 2004 when my oldest child was only two months old and would not relent her big cry baby phase – I needed to find a better solution; that's when I discovered the
Moby Wrap
. At that time it was relatively new to the baby wearing scene and very affordable (considering most other wraps at that time retailed between $80 – 150). My best friend Sarah, who is a baby wearing addict, also thought the
Moby
would be a great option for me too… I took the plunge and ordered one to try out.
In a word: wonderful! The comfort of a cotton t-shirt with the support of a wrap – all for a great price! The
Moby Wrap
can easily be worn with or without baby, eliminating the needs to take it on and off all the time. I immediately bought a couple more colors because I knew I was in love with the wrap.
Moby
has since branched out and now offers more color, print/design choices for those looking for a little more flair than a solid colored wrap!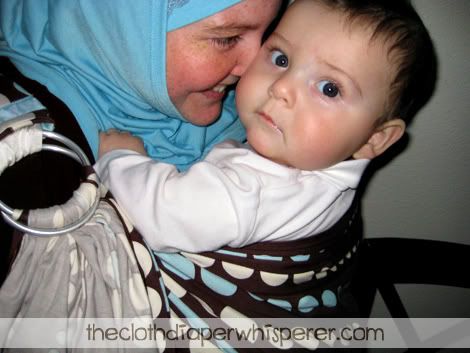 Wearing baby allows you to hold and comfort your baby while still being afforded the use of your two hands; an important necessity for every mama! The only downside is figuring out which one to choose! Whatever you choose, I assure you baby wearing is as much fun as cloth diapering!
- By Serena
*Photo Credits of the Nez Perce Indian Cradleboard: Northwestern University Library,"The North American Indian": the Photographic Images, 2001. Photo taken in 1911 and it is not subject to copyright.