It is hard to believe now that there was a point in time when I had not yet been introduced to the
Moby Wrap
. Once it's exsistence was brought to my attention, it became nothing more than a long piece of intimidating fabric. Except one day, when out shopping, I saw it there on the shelf wearing an imaginary halo and begging me to buy it. So I did what makes my husband cringe most, I wipped out my credit card with reckless abandon and walked out of the store with one more baby accessory.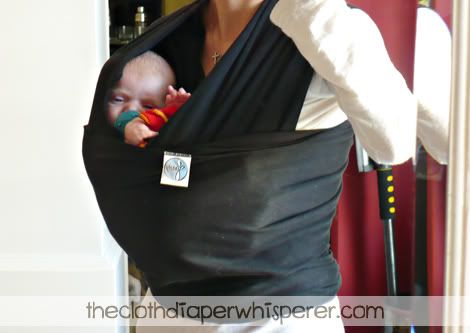 Since the first time I put it on I realized there was no other wrap, carrier, or sling that could compare. I have had all of the above and always come back to the
Moby
. My twins are 5 months old and still like the classic cradle hold. We have 2 double strollers but for walks around the neighborhood I always put one baby in the Moby and the other in a single stroller. The support of the
Moby
is better than any other baby carriers I have used. I can do a 2 hour walk and not feel like I need to see a chiropractor.
My family peered at me very suspect the first time I put it on, but now they can see it as the gem that the
Moby
truly is. My babies may be growing, but it just makes me excited to try out the different holds that the
Moby
offers. That is, if I can convince them they are getting too big for the cuddle hold!
-
By Amanda S.
(The photo is showing James at 2 months old... He is 5 months old now)