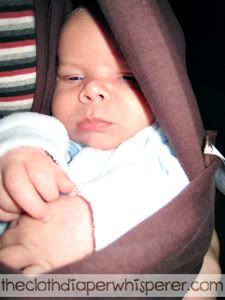 Three years ago when my first son Ian was born I was given a Baby Bijorn carrier. I used it for several months, but once Ian got around 18 lbs or so I stopped using. I found that if he was in it for more than twenty minutes or so, my back and shoulders began to hurt. As time drew near for my second son's birth last year, I looked around for an alternative carrier. I researched several of the popular styles of slings and wraps and finally decided on
The Moby Wrap
.
My mother purchased it for me as a gift a few weeks before Brendan was born, so I had a few weeks to play around with it and practice putting it on. It was a little overwhelming at first – the fabric is unbelievably long and putting it on with a nine month pregnant belly presented a bit of a challenge. I kept working with it, and by the time my little Brendan was born, I was able to put it on correctly, quickly and without any problems. As a newborn, I used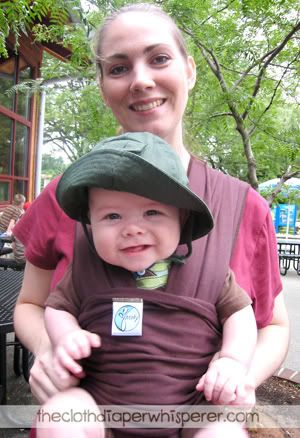 the cradle hold all the time. He felt like I was holding him tightly, and he could easily hear the soothing sound of my heartbeat. I was able to get things done around the house, vacuum, etc. all while he was comfortably asleep.
As he grew older and was able to hold up his head better, I transitioned first to the Hug Hold, and then to the Lotus Hold.
I've worn my Moby wrap everywhere. The zoo, museums, the airport, the grocery store…you name it. It's incredibly comfortable, even now that Brendan is 24 lbs. I can't begin to count how many people have asked me about
The Moby Wrap
- and how many moms and pregnant woman have jotted down the name of it to look up when they got home. I sure wish I had been selling these things – I could have sold a dozen or more in the past year just by simply wearing it around town. Anyone with a baby, or who is expecting a baby, needs to try a
Moby Wrap
. My life this past year with two little ones wouldn't have been as easy without it.
- By Katrina W.