This entry was submitted by Andrea L. and is the winner of a $25 Gift Card to
Kelly's Closet
!

This story wasn't so funny at the time, but it is looking back. Looking forward to the reading the results of the contest!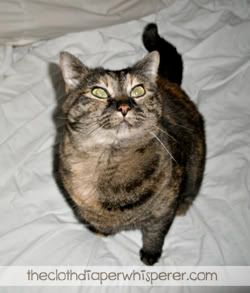 When we were still in that period of constant sleep deprivation that comes with a newborn baby, we sometimes got a little lazy. One of the things we did (since our baby co-sleeps) was to keep a few of his Bum Genius diapers in bed with us and just do midnight changes without getting up. The end result was that there were often a few dirty diapers at the foot of the bed.
One morning I woke up and noticed that there were quite a few yellow spots on our white sheets. Our cat had stuck both of her front feet into one of the (very) dirty diapers and walked around on the bed.
The best part was when my long-suffering husband (who had the cat foisted on him when we got married and the cloth diapers foisted on him when we decided that I should stay at home) woke up to find that he had a few spots of mustard yellow poop on his chest too from when the cat slept on him. He told the cat that he was going to sell her to the Gypsies-- luckily she caught a mouse later that day and got back into everyone's good graces.