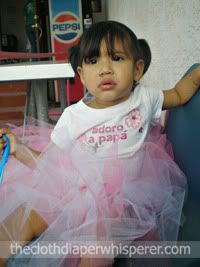 You know I've always been the weird one in our family when it comes to doing certain things. I tend to go against the grain I suppose because sometimes it feels so good. My dream was to be a wife and mother (I know to some it seemed ridiculous because what would I do with the rest of my time?), I would rather sew something for half the price it would cost me to buy it, I decided to breastfeed (why wouldn't I just bottle feed?), I just am starting to home-school (what am I doing to my poor child?) and now I cloth diaper?!?!
One day when I was opening registries for my baby shower I came across disposable liners for cloth diapers and got me thinking. I started reading and reading and reading and boldly told my husband I would give it a shot, I don't think he was optimistic. All I we heard about cloth was negative and I had even been told that babies get more rashes with cloth! I sat there thinking about how for 3 years we had just thrown money away over and over with each diaper change just because its what you do, you just buy disposable diapers for your baby. I was flabbergasted when I read that to diaper one child from birth to potty trained can cost between $1500 to $3000 and it made me determined to try.
Shortly after my son was born I ordered some really inexpensive
prefolds
and
diaper covers
. They were thin and leaked if I didn't change it quickly but I liked it for some reason. I didn't seem like the burden everyone claimed it to be. I started doing more research on diaper quality and couldn't believe the variety there is and at the same time the prices of some of the diapers! For budget purposes I decided to go with
Chinese prefolds
and
Wonderwrap one size covers
. I bought my
snappis
and some Kushie disposable liners and was set! I haven't had a leak or rash with the cloth except for the time I put him back in sposies for an outing. I like to do the newspaper fold and the
snappi
makes it easy to clip securely, then I just put the cover over it and no leaks ever! I've since also gotten 3
one size BumGenius
that we use at night and a
thirsties cover
that is wonderful because its so thin and roomy over the prefolds. The best part is that since my stash consists of
premium size prefolds
and
one size covers
and
BGs
my almost 2 year old can use them too.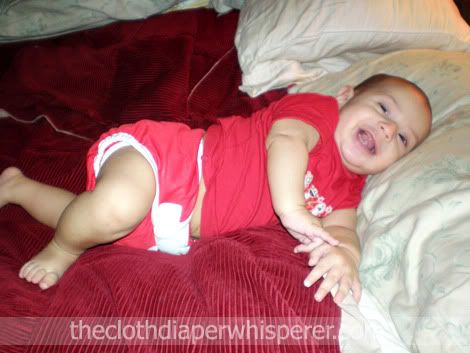 Since I was on a roll with the diapers I thought about the
wipes
too and made myself a few dozen out of our older towels and receiving blankets and they work so much better than the disposable wipes especially with the aloe and caress soap mixture I use. They get so clean and are so fresh and their bottoms never dry out. It makes me feel like a super mom, lol.
It really makes me proud to be a part of a group of families that have decided that its important to be informed and do what is best for our children and ourselves. I just love holding my little son in his cloth diped bum. For right under $200 I got everything I would need to diaper him and my middle daughter until they learn to use the potty. There are so many other diapers I want to try but if I don't get a chance it still feels so good to say that I'm not taking thousands of dollars and putting them in the trash anymore.
My advice for anyone who thinks its terrible would be to try it for 2 days, you won't go back!
- by Tani