"You're going to wash them YOURSELF??"

"Just wait until your kid has diarrhea."
"But you'll have a diaper service, right?"
"Don't babies get way more diaper rash that way?"
"That's great, but I'm way too busy to do all that extra work!"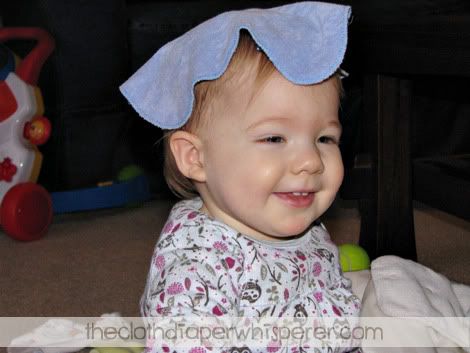 Throughout my first pregnancy, as my research on cloth diapers turned into serious thought and serious thought became reality – I heard it all. Some folks were supportive, lots thought I was insane, and most were at least a little bit skeptical. But I am nothing if not stubborn, and no one was going to tell me that this decision was one I couldn't handle – or one that would hurt my baby in any way.

Many women will agree that a strange sort of mental metamorphosis can occur while you contemplate becoming a mama for the first time. Amid all the prenatal daydreams of soft blankies and powdery smells, our minds wake up to the notion that we are being charged with caring for a brand new little person. A whole (albeit tiny) person who is unable to meet any of his/her own needs will be placed in our care. And once the pregnant-mama brain starts processing what that really might mean – suddenly some things that never seemed quite so important before loom large on the radar screen.


I went from being someone who never recycled because it was inconvenient to the person in the house who drives everyone a little nuts making sure that nothing is thrown away that shouldn't be.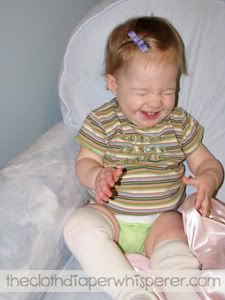 I was someone who had no strong views on childbirth & pain medication… by halfway through my pregnancy I was convinced I wanted to have a completely natural birth, and I set about gathering as much information as I possibly could.
I knew I wanted to breastfeed exclusively and make my own baby food. And somewhere along the way, I decided I wanted to wrap my new baby's bum in cottony cloth diapers.

I did research, I scoured cloth diaper websites, I read blogs of cloth-diapering mamas, I crunched numbers, and I did more research. I came up with a cloth diapering program that would include one-size diapers (I bought a bunch of BG 2.0s when they went on sale right before the BG 3.0 was introduced) and prefolds, snappis & Thirsties covers. My baby's room was stocked with freshly laundered diapers, just waiting for the arrival of our much-anticipated little one.
I was a little dismayed when it took me nearly six weeks to get the hang of cloth diapering full-time. Our little lady was long and skinny , and the one size diapers were HUGE on her, and the prefold/cover combination was simply too bulky to fit under any clothes. And in February and March in Michigan – clothing is not optional. But once I got the hang of things, and my skinny mini plumped up a bit – I quickly realized that I *love* cloth diapers. Folding and stuffing can be relaxing, and the sweet piles of cute diapers warms my heart right up.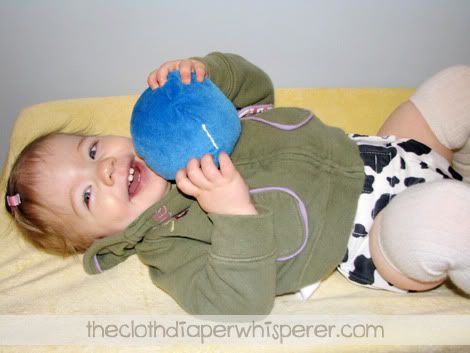 My baby girl turned one 2 months ago – and we still love our fluffy cloth diapers. Our stash has expanded to include
Happy Heiny's
,
Fuzzi Bunz
, MonkeyDoodlez,
Thirsties Fitted
and some
one-size BG 3.0s
. And since I'm due with Baby #2 in August, I've been motivated to start hunting down some options that will enable me to cloth diaper from day one.
And so, to all those who thought I was just another crazy pregnant lady…
- Yup, I wash them myself. It's only a couple more loads each week, and it's not hard.

- No, diarrhea doesn't make cloth diapering any worse (messy poop is messy poop – no matter what kind of diaper it's in – and my cloth diapers do a much better job at containing messes than 'sposies ever did!)
- No, I don't have a diaper service.
- Nah - my daughter hardly EVER gets diaper rash – and it clears up fastest when her skin can breathe in a cloth diaper.
- I'm busy too, but honestly – it doesn't feel like extra work to me. For lots of reasons (environmental, financial, health & more) I believe in cloth diapering. It's important to me, and I'm happy to do it for my kid(s).
-- By Katie B.