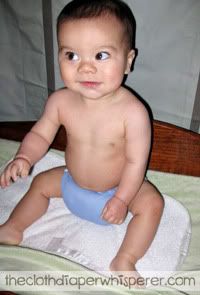 My little man was 5 months old when I went back to work and I was not ready to leave him. At the time, I was questioning how to manage cloth diapers and washing them myself (along with the pressures and requirements of working full time and being a mom). When he started in day care I had 22
pocket diapers
in use, while on maternity leave this was plenty. I washed them every other day and had the schedule down pat. While interviewing day care provides, I always asked the very important question, "Do you mind using cloth diapers?" The woman that we chose was so excited to learn that we were using mainly
BumGenius
because that's what she was thinking about using for her baby (due in July). She was excited to have a "trial run" with cloth on our baby. After a week back at work, and continuing to wash diapers every other day, I was exhausted. My husband suggested that we get new diapers and I was able to get 6 new
BumGenius
! It was such a relief.
Our routine is as follows: at night I pack the baby's bag for day care, he get 5 or 6 diapers and multiple flannel wipes. In the morning, my husband or I change the incredibly full nighttime diaper (typically it is a
Fuzzi Bunz
stuffed with a
prefold
wrapped around an
insert
). During the day he wears
BumGenius
,
Haute Pockets
, and
Happy Heinys
with only one insert.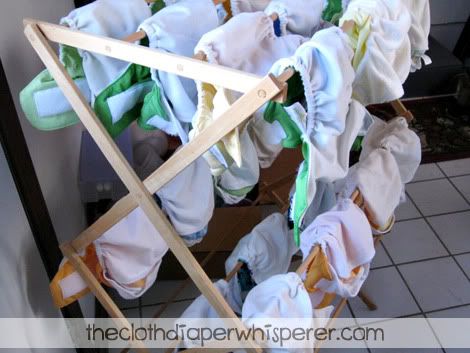 When I realize that there are 6 or less diapers in the closet, I start the laundry. I generally start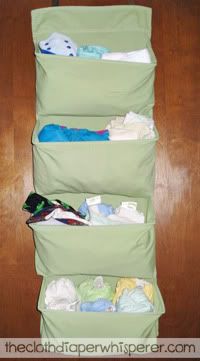 the diapers in the afternoon/evening. I do two loads, (one cold, one hot) and then put all of the
inserts
and
wipes
in the dryer. The diapers are hung to dry on a rack in the laundry room. When everything is dry, we put everything on a chair in the living room and in the morning or at some free point during the next day we re-stuff the diapers and start the process over again.
This has worked out well for us, we currently have 33 diapers in use and are able to wash them every 2-3 days. I thought that I would have more of a schedule (such as every Sunday and Wednesday), but it hasn't worked out that way. We have found that some days he needs to be changed more frequently than others and that there isn't really a true pattern to this. I also realized that although the task seemed daunting (washing diapers and working full time), I could do it (with the help of hubby) and that it is well worthwhile.
- by Becky D.