I am surprised over and over at how people react to the fact that both of my daughters are in cloth diapers. It's so normal for me now. But people, and moms in general say "Oh, that is so much work", "I didn't realize they still made cloth diapers", "I don't have time to worry with washing diapers", "Do you have a diaper service?", and other such incredulous statements. My personal favorite comes from my parent's peers- "Wow! I haven't seen cloth diapers since my kids were babies. I remember how much work they were. I don't envy you." My perspective is so much different. Like anything else I do, I researched first. I didn't want to jump in on the end of a fad, nor did I want to be different just for the sake of it. I needed valid reasons why I should spend lots of money up front, and then do something (yet again) that was not status quo. (Everyone already thinks I'm a little on the nutty side for birthing my two girls at home.) After going to many different websites, speaking with other cloth diapering families, and reading up, I found that using cloth not only helped save the environment, but also would save on our diapering expenses over the course of our daughters' "diapering careers". I read one stat that showed that families spend an average of $2600 per child on diapers. What?!? Do you know what I could do with that kind of money? So, after many hours of researching and discussions with my husband, we decided on cloth. Now, which kind to use? There were so many options available. We chose to go to one website that had diapers ranked on many different aspects, and went with the most popular. I am satisfied with my choice.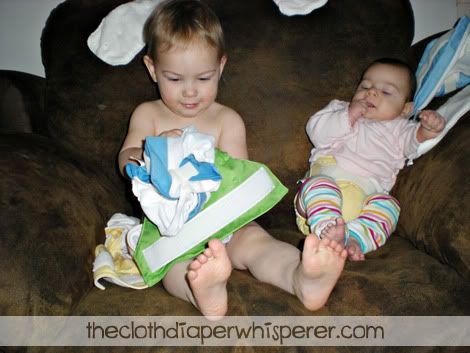 My family thinks I am a bit on the "granola" side of things, but have been very supportive of our decision to use cloth. My parents keep disposable "back-ups" at their house, just in case. But they seem to appreciate our desire to be good stewards of our money and the earth. The only dissenters seem to be my sisters without children. They screw up their faces at the thought of having to "dump" out my older daughter's stinky diapers, and sometimes they make gagging noises to which I tell them that they are ridiculous- one is a doctor and the other is going to medical school. I mean, seriously, cleaning out a poopy diaper is grosser than dissecting a cadaver? I think not.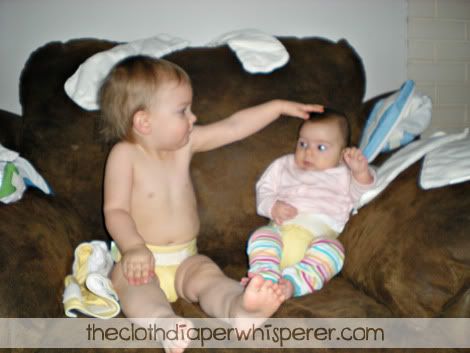 When I show up at church and drop my girls off at the nursery, I have to give specific instructions, like, "I just put a fresh cloth diaper on my child. You won't need to change it over the next hour unless she has a stinky. In the event that she does have a stinky, please do not throw her diaper away. It is not disposable. I have a little bag (and I show the little bag) and you can just put it in here." For those who have never kept my girls, a little conversation about using cloth diapers always starts. First, the obligatory statements listed above are exclaimed, and then they say things like, "Awww! They are so cute." "Look at how easy they are", "They look just like "real" diapers", and "If I had babies now, I might try these." I deliver my standard response about how much less expensive they are over the long term and how my laundry time has really only increased by about 5 minutes per load. I explain that I do 4 extra washes each week and stuff and fold them (I have pocket inserts) during the commercials while I watch "Jeopardy" in the evenings. It's not much extra work and the savings are worth it. Then I point out the fact that my girls' little bottoms are rarely chapped and rashy- something that even the older kids in diapers seem to have issues with. And finally, I offer to let those with little ones try out some of my un-used diapers, just for a test ride... to which the majority make up excuses and kindly refuse. If only they could see it the way that I do. If the stats are accurate, then I will have saved over $4500 on diaper expenses and two tons of non-biodegradable waste in our local landfill... and that is definitely worth my time!
- By Mary K.