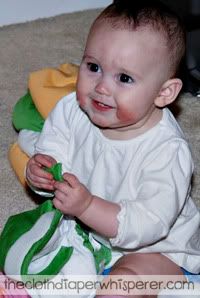 We're an avid
BumGenius
family here (which was solidified by our lucky win during the 10th week of Fluff Fridays!). I was initially drawn to
BumGenius
because of their fantastic reputation and the wild popularity of their
one-size pocket diaper
, but it's the great quality that has cemented my love for them.
My favorite of the
BumGenius
diapers is the
organic all-in-one
. I love that it combines the convenience of an all-in-one with the cost-effectiveness of a one-size diaper. Though it is more expensive than their non-organic options, the great quality and convenience makes it well worth the investment in my opinion. Were I to start a diaper collection from scratch, I would make these the foundation of my cloth diaper stash. Unfortunately for us, they were the last of the BGs we tried, so I am making do with just a couple while we gradually add to our stash. The only downside to the organic diapers is that their drying time is longer than any other diaper we have, but usually I just put them through one cycle on the dryer, then hang them to dry until they are thoroughly dry (usually overnight).
My second favorite BumGenius product is the regular
all-in-one diaper
. The fit is fantastic, and the convenience is unmatched. They are so trim, and I love that they are just ready to go straight out of the dryer. As a work-at-home mom, I prefer not to spend my time stuffing diapers if I don't have to. The only downside to this diaper is that some people don't like suedecloth (though we have had no issues with it--allergies or stink), and since you have to buy some for each size, I do find that they end up actually costing more money than a
one-size diaper
.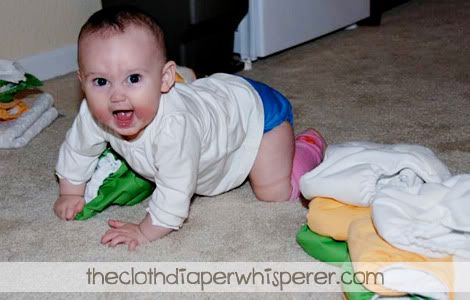 Ironically, since it is by far their most popular diaper,
BumGenius pocket one-size diapers
were my least favorite of the BumGenius offerings I've tried. I know some people complain about stuffing the pockets, but for me that paled in comparison to the ickiness that is *unstuffing* them. I hated having to fish an icky wet insert out of the pocket before I dumped it in the pail, so these just weren't for me. But if you like the pocket diapers, I think you would LOVE the all-in-one options available!
Best of all, no matter which
BumGenius
product you try, the quality is sure to be high. I've had no problems with color fading, leaking, or fit issues. They truly make great products, and something for every type of cloth diaper fan.
- by Sara, Seattle, WA