When I first announced I was going to be cloth diapering and NOT using a diaper service, I was met with incredulous looks and persuasive arguments about why it was a bad idea to pursue cloth diapering on my own. We have a business based out of house, and so time is a premium, and I was warned that with a newborn life was about to change drastically.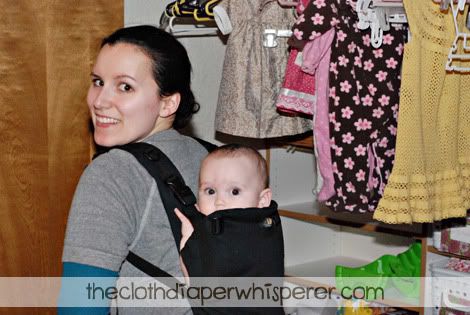 Well, the baby definitely changed things, but cloth diapering hasn't added to my workload at all! With a simple system, I hardly notice any added work in my day due to cloth diapering.

The main "knock" against cloth diapering that outsiders will bring up is the laundry aspect. In order to limit the amount of time I spend laundering, I think it's essential for work-at-home moms to buy enough diapers to have a solid stash. I bought enough that I only have to launder diapers about twice a week. For me, time is money, and even more importantly, I'd rather be spending my precious non-working hours enjoying our family and not laundering. To me, it is well worth the investment to buy an extra day or two's worth of diapers.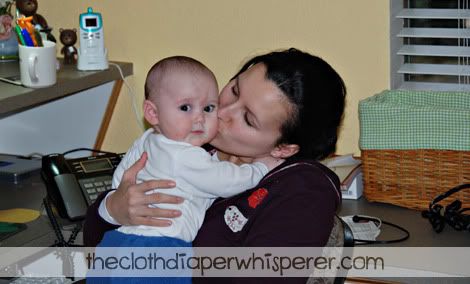 I always launder on Sundays, and then usually once in the middle of the week, either on Wednesday or Thursday depending on how things are going. Since my "whitest whites" cycle that I use on my washer takes awhile, I try to empty out my pail liner into the washer before I leave for church on Sundays and start the load, and then they're ready to switch to the dryer when I arrive home. I try to get them all put away promptly so that I don't end up having to dig through a laundry basket for wipes and diapers later. During the week, I have a similar routine; I try to take advantage of time that I know will be tied up elsewhere (either in work projects or before lunchtime, etc.) by loading the washer or dryer up so that I am killing two birds with one stone. On sunny days I'll hang the diapers up outside to get out any stains. Often baby Grace will ride in her baby carrier while I get her diapers ready.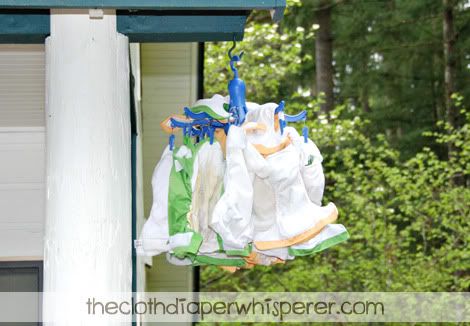 When I'm putting diapers away, I prepare my drawers with diapers and then also a "downstairs basket" that I keep near our office. The downstairs basket is loaded with our favorite diapers (usually
BumGenius all-in-ones
!), cloth wipes, and a waterproof changing pad so that I don't have to constantly run up and down the stairs to change the baby. This helps keep me "on task" so that I can get my work done faster and still have my baby clean and freshly changed throughout the day.
With a little planning and a lot of diapers, cloth diapering and working at home can both be accomplished seamlessly and stress-free!
- By Sara A.