Regardless of what brand or style of cloth diapers you use there's one thing we all have in common: dirty diaper laundry!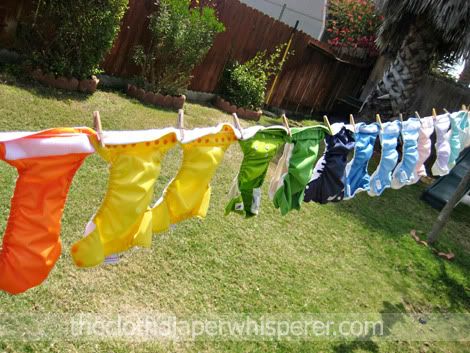 I've always thoroughly enjoyed doing laundry. Okay, I'll admit – I'm not particularly fond of doing the loads of "white laundry" because I have to match and fold all those socks! When I first started cloth diapering I was frustrated because I followed all the general "recommendations" for laundering and my diapers were still coming out dirty/stained. If it wasn't for my innate need to troubleshoot everything (I was oftentimes nicknamed Little Miss Fix-it) I would have likely given up on cloth diapering.

Thankfully after all my little "scientific" laundry experiments I found a routine that worked great (at least for me). If there's one question I happily answer most it's, "What do you recommend for washing cloth diapers?"

Simple enough question, right? Yes and no. Oftentimes you will hear people say, "It's laundry not science!" but the fact of the matter is laundry is a science, and very few people understand, or appreciate it as much as I do. Detergents have been carefully formulated to be effective but not damaging. For instance, many
"cloth diaper friendly" detergents
contain sodium bicarbonate (baking soda) and/or sodium borate (Borax) and/or sodium carbonate (Washing Soda). However, these ingredients, if used individually/independently, don't necessarily make them cloth diaper friendly.
Additionally, very few people truly take into consideration all the variables involved with recommending a washing routine for cloth diapers. Are you washing
prefolds
and
diaper covers
?
fitted diapers
?
pocket diapers
with micro-terry inserts and/or
all-in-one's
? Or, are you like me and you have a Smorgasbord of diapers? Do you have hard water? Are you using a top loading washing machine or a front loading washing machine? Etc…
First and foremost the standard recommendation would be to consult with the manufacturer's directions for laundering your cloth diapers. If all your diapers are made by the same manufacturer, (i.e.
bumGenius
,
FuzziBunz
or
Happy Heiny's
, etc…) then this is relatively easy. Give the manufacturer's recommendations a try and go from there. If it doesn't happen to work out well for you then you can make adjustments accordingly.
Laundry Routine
With that said, after all my trial and error, the routine I found that works best for both a top loading machine as well as a front loading HE machine, and regardless of what cloth diaper you are washing, is as follows: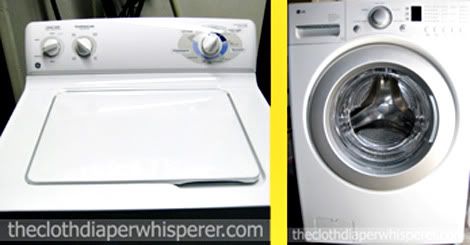 1 cold, short cycle wash w/detergent*

1 hot, heavy duty cycle wash w/detergent*

1 additional rinse (warm water works best)
*Use the recommended detergent amount for cloth diapers according to your machine. Top loading machines usually call for ½ the standard amount while front loading HE machines require only ¼ the standard amount.

While many are able to get by with a simple cold rinse followed by a hot wash I've never achieved the desired results with a mere rinse. I personally prefer to use OxiClean (any oxygen based will work) in the short cold cycle wash – this does wonders for fighting the "organic" stains of poo! However, you'll want to double check that the use of any additives (such as oxygen based cleaners) are ok per your diaper manufacturer.

If you opt not to do the cold, short cycle wash – at the very minimum you will need to do a rinse. This is essential for rinsing away as much debris and soiled matter from the diapers before washing them on hot because hot water typically sets stains (and essentially you'll be washing your diapers in hot urine water – YUCK!).

When all is said and done give your diapers a whiff to ensure they're clean. A clean diaper should have no lingering smells. If you get a faint whiff of anything questionable then the diaper isn't truly clean. You'll need to run it through one additional cycle.

Drying
The best way to prolong the life of your diapers is to hang/line dry your diapers. By drying in the sun you get the added benefit of not only whitening/brightening your diapers and removing stains – but this will also kill residual bacteria (if you're having stinky issues with your diapers oftentimes sunning them will be a remarkable help).

If you're using diapers that have Aplix/Hook and Loop closures then you will want to periodically dry them in the machine to "reset" the hook and loop. The heat from the dryer will cause the hook and loop to contract making them stickier/grippier again. It's also important to clean out any lint/hair/debris in the hook which can also impair the ability for the tabs to properly grip/fasten.

Serena's Tips/Tricks/Recommendations
Consider storing your soiled inserts separately from your
pockets
/
covers
, especially if you only wash a couple times a week. The longer soiled diapers/inserts sit in the pail, the urine will ferments and turn into ammonia; this can break down your diapers prematurely (mainly the elastic).
If you're using
prefolds
in addition to
pocket
/or
all-in-one
diapers then it is strongly discouraged to launder these items together; doing so will cause excessive wear and tear to the
pockets
/
all-in-one's
-Cloth-Diapers-_c_608.html">stay dry lining during the wash. Therefore, it's best to wash these separately.
Fasten your Aplix/Hook and Loop "laundry" tabs BEFORE tossing them into the diaper pail. This will make laundry much easier than having to sift through the diaper pail to make sure everything is properly fastened for laundering. Here's an alternative way to fasten most Aplix tabs so they don't come undone in the wash: pull the tabs to the back, twist one tab over and fasten onto the other tab – VOILA!
To prevent the scruffiness of line dried
prefolds
consider tossing them in the dryer for 20-30 minutes prior to putting out on the line. This will not only help to keep them soft but "quilt"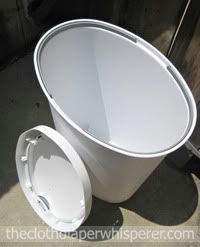 them slightly as well.
From time to time set your diaper pail out in the sun while the diapers in the wash (I like to give it a quick hose down and allow it to air dry). I'll use my
Planet Wise Wet/Dry Bag
to store the diapers in while the pails are out of commission (I like how this wet bag has the attached handle so I can simply hang the wet bag from my changing table).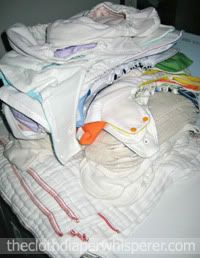 Since I store/organize my diapers by colors – I like to sort the diapers according to color and group items such as inserts and doublers together as I take them out of the washing machine or dryer before putting them on the line to dry. This is not only aesthetically pleasing but also makes pinning the diapers/inserts to the clothesline much easier since everything is situated in the right direction, etc… It also makes my "restocking" process faster too!
- By Serena