While I was pregnant with my beautiful daughter Elenore, a few people would ask me if I was planning on using cloth diapers or disposable diapers. Having grown up only exposed to disposable diapers I would quickly rattle off my reasons why I would only ever use disposables. My main argument was that I didn't have a washer and dryer. The truth was, I knew nothing about them!

I remember the day that I was first introduced to
BumGenius
. Elenore was 6 months old and I had found a You Tube video that explained exactly how they worked. I was amazed that they were no longer my grandmother's diapers. From that moment I was hooked! The moment my poor husband came home he was bombarded with information that he really had no desire to ever know. It took me about 48 hours of obsessing before he finally relented and told me that I could have 50 dollars to spend on starting my self a stash. For any of you who know anything about pocket diapers you know that 50 dollars doesn't get you very far. But like I said before, I was clueless.
I strapped Elenore in the peanut shell and walked the few blocks to my local Eco-Friendly baby store.

Because of my budget I ended up walking away with two dozen
prefold diapers
at 22.00 a dozen, one
Snappi
, one
Wonder Wraps diaper cover
, and a wealth full of information. The clerk tried to convince me that I would need more then one cover but I had a budget! (Little did I know that I would come crawling back to the store only the next morning to buy another
Wonder Wraps
and a
Bummis cover
after my darling one decided to have a blow out).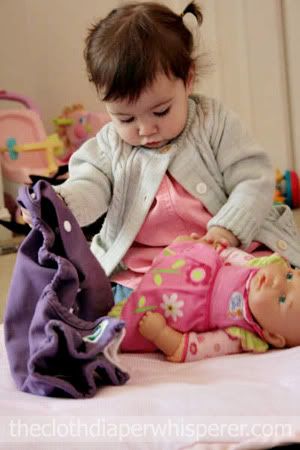 My total expenses to date on diapering are around 85 dollars as opposed to my budgeted 50 dollars a month. We would have spent over 350 dollars in the past 6 months we have been cloth diapering.
Cloth diapering has changed the way I think all together. Where as I would have previously distinguished things like cloth nursing pads and mama rags as "yucky" I now see them as tools to enhance the things I encounter every day! I have no idea how I used disposable nursing pads for so long those things are so scratchy! Using cloth diapers has also opened me up to a whole new group of wonderful mommies I never would have met.

It is amazing how when you step out of your comfort zone you can be opened up to a world of opportunities and friendship.

My advice to anyone thinking about using cloth diapers is to not be afraid! There are so many wonderful moms and dads (!) out there who would just love to answer any questions you might have. Making the change is possible and well worth it!