I've learned…
Cloth diapering is a BLAST! I never imagined when I embarked on my cloth diapering journey that I would have as much fun as I have. Of course my drive and passion landed me an awesome gig working to help bring cloth diapering success to others!

How to appreciate the "good old-fashioned" way of doing things. Hanging diapers (and laundry) out in the sun to dry is truly a heart warming and natural feeling; it's also a wholesome sign to see diapers and laundry swaying in the crisp breeze.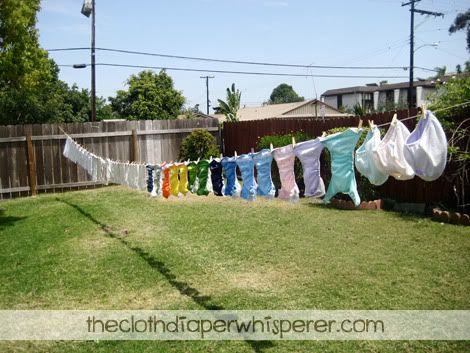 The sun provides more than just warmth but does wonders for killing bacteria, whitening and brightening as well as removing stains. My husbands dress shirts and undershirts look amazingly new again; I have even resuscitated a few of the kids clothes too!

How to appreciate diaper changes and make the most of them, rather than considering them a chore as I used to when we used disposables. I've learned to use cloth diapers as a way to teach my children how to live and appreciate a more natural, healthy lifestyle as opposed to the disposable, convenience-based society we live in. Reduce. Recycle. Reuse.

You can teach an old dog new tricks. My family all know how to change a disposable diaper… geez, my mom even knows how to use the prefolds and pins (although she insists on not doing it). However, after enlisting the troops one by one – I've got them on board with cloth diapers. Here's my sister after she changed her first cloth diaper!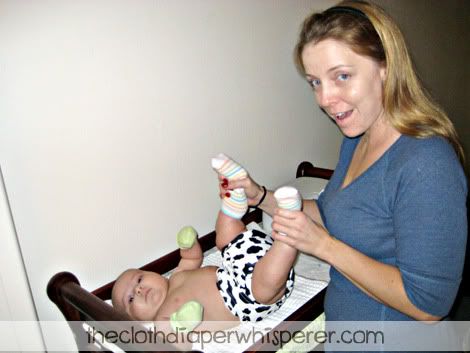 Most importantly, I've learned there are so many amazing moms and dads out there looking to do the right thing and just looking to connect with someone to help figure it all out. I value being able to help people and look forward to continuing to provide all the help and support I can; one cloth diapered bum at a time!
- By Serena