When I first became interested in cloth diapering, I was pregnant with my now ten month old daughter. I wanted to use cloth diapers instead of disposables, but I had been told they were hard to get clean. I was worried that they wouldn't be sanitary. I scoured the internet trying to find out how best to wash cloth diapers – What kind of detergent/soap should I use? How much? Would I need to add anything else like vinegar or baking soda? What about bleach? OxyClean? Bac-Out? And then: should I use a wet pail method or a dry pail method? Do I need one of those sprayer thingys? It was all so overwhelming.
So I decided to just pick something and gave it a try. I figured if it didn't work, I could always do something else. I purchased one of the size small
Bummis cloth diaper kits that comes with 3 dozen prefolds and 6 Bummis super whisper wraps
. I have always just folded the
prefolds
into thirds and placed them in the
cover
– no
pins or snappies
. If she only peed, the diaper went into the pail and the cover stayed out in rotation. If she pooped, it would usually get on the cover too so the whole thing – diaper and cover – went into the pail. Now that she has started solid foo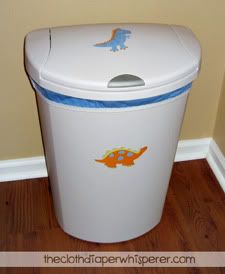 ds, I sometimes shake the diaper into the toilet before putting it in the pail.
I decided to try a dry pail method because I didn't like the thought of dealing with soiled water. The pail I use is a white plastic touchlid wastebasket I bought at Target for around $9. I customized it to our nursery by gluing on dinosaurs to the front and the top of the lid. In place of a regular garbage bag, I use one of two
Wahmies all-day size wet bags
that I have in rotation. It just goes on the garbage can under the lid like a regular bag would. When I need to put a soiled diaper in, I can push the button on the touchlid with one hand, and keeping the lid closed afterwards eliminates odors. For on the go storage, I use a smaller wetbag with a zippered top for day trips. If we go overnight I take one of my all-day size bags with us.
I typically wash diapers every 2-3 days. I take the whole bag to the laundry room, dump the diapers in the wash, and then the bag goes in too. I prewash them in cold water and then add ½ a scoop of
Charlie's Soap
and wash with hot water. I make sure the water level is set to the highest it will go, and set the wash cycle to the longest setting. I then double rinse to make sure to get all the soap out.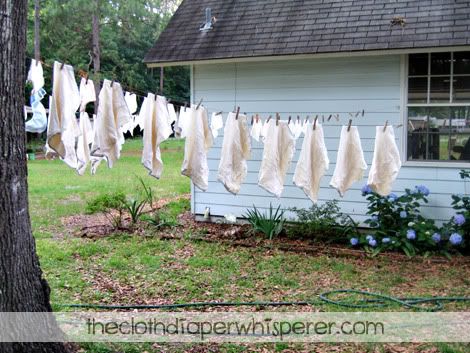 To dry the diapers I take them outside and hang them on the line. My daughter has always enjoyed getting outside to "help" me do this – at first riding in my front carrier, and now playing on the ground and pulling up on the laundry basket. If there are any stains, a couple hours in the sunshine will eliminate them (even on a rainy day!), and the sun's bleaching action also helps to sanitize the diapers. I have never used any additives such as vinegar, baking soda, Bac-Out, or OxyClean. Because there are so many prescriptions for how to wash diapers on the internet, I believe that different things must be necessary in other areas with different water hardnesses, but for me this simple method works great.


- By Samantha E.