While I read the very detailed product focus post about Linda and Happy Heiney's here on Kelly's blog, I never realized she was a local San Diego mom.

A couple weeks ago I received an email newsletter from Linda Byerline, creator of Happy Heiny's, calling for newborns and toddlers to participate in a local diaper fashion show for 2 days of local news station interviews. It wasn't a "paying" gig – but we would be allowed to keep the diapers our little one(s) would wear (and potentially be seen on television). For a cloth diapering mom – a free diaper or two is better than monetary compensation!

Needless to say I was thrilled to be accepted when I received Linda's email response with the specifics for the event(s). I prepared everything the night before to ensure a seamless morning and even woke up extra early. However, as all mamas know, when you have to be somewhere at a very specific time, something always comes up to make you late. Although I planned to arrive at least 15 minutes early – thankfully, we were exactly on time!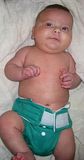 I entered Linda's local boutique, Baby Frenzy, and was amazed at the turnout! Babies of all shapes and sizes (and their happy mamas and a daddy too) were all gathered throughout the store. Linda was busy sizing babies and determining which diaper would fit best. My little guy, Ilyas, is only 2 months old and already 15+ pounds. We discussed putting him into a small Happy Heiny's Pocket Diaper but settled on the Happy Heiny's One Size Diaper in kelly green. My youngest daughter, Halimah, would also be modeling a Happy Heiny's One Size Diaper in lavender.

When
the news reporter and camera man finally arrived they were overwhelmed by the turnout. The reporter almost didn't know where and how to begin because there wereso many of us. He met with Linda while we all prepared our little ones for the fashion show (the camera man shot footage of the process).

As I assembled the diapers, my first reaction was "WOW." The fleece lining is lusciously soft. If I were a baby I would definitely want that against my bum! Stuffing the diaper was effortless. The velcro (aplix) tabs are also generously sized, very sturdy, yet incredibly easy to adjust to ensure the best possible fit and a speedy diaper change to boot! The Happy Heiny's One Size Diaper truly is just that; it fit my 2 month old just as good as it fit my almost 3 year old.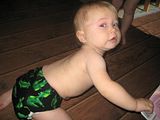 Afterwards the reporter asked, "Who just swears by the one-size diapers?" Everyone raised their hands! From newborns to toddlers there were bums of all shapes and sizes sporting these awesome diapers in a large variety of colors and gorgeous prints.

We were also requested to participate in a live broadcast for an alternate news station the following morning. After I arrived a few minutes late, Linda was able to get me the diapers to put on my kids for the interview. This time they would be modeling the Happy Heiny's
One Size Diaper with SNAPS. Halimah in the cowhide print and Ilyas in a solid aqua. This was my first time using a diaper with snaps. Linda did an excellent job designingthe snaps version becauseI had no difficulties at all getting these on my kids. All in all – the snaps were just as easy and fit as good as the aplix version.

The producer asked that only the babies/kids be in the actual footage during the interview – so my daughter sat and held her brother on the blanket amidst the other little ones. Needless to say the anchorwoman conductin
g the interview was very distracted by all the babies! However the message itself was loud and clear; today's cloth diapers are NOT the cloth diapers of old – they are just as easy as disposables, better for the environment and gentler on your pocketbook!

I'm grateful for this wonderful opportunity to participate in promoting cloth diapers while also being able to try this product. Having now used and laundered them a couple times I can honestly say they'rereally great diapers!
- Serena, the newest contributor for the Cloth Diaper Whisperer's Blog.