Ladies and gents, I really like (LOVE)
ebay
.
What started as an online trading site for PEZ Dispenser collectors has in a very short time evolved into what can best be described as the world's largest garage sale!
Got a gift that you don't want to regift...put it on ebay. Looking for Rudy the Robot from 1969, check out
ebay
. Want to comparison shop for an item, and see the range of prices others are paying for an item you saw in the department store...research it on
ebay
.
As a cheapskate at heart I go on to look for bargains on things that I can't find at a traditional brick and mortar store. Recently, my wife Kelly mentioned the need to replace her favorite jeans. These were not just any je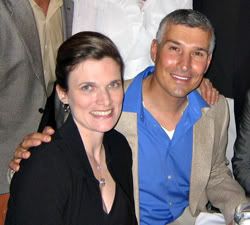 an, they were a discontinued levis low slouch, type 1 button fly, buckle back jean in size :). I gave some thought to my search terms, and ventured off on my ebay safari. Low and behold, within a week I had 3 pairs headed our way!
We live in a 18th century farm house. As such, I insist that all the furnishings must be comensurate with the period of the home +-40 years. Where do you turn to find a 1700's writing chair?
ebay
! In the case if the chair, I wound up winning the auction paying 1/10th of what the chair would normally cost. The bad news, I had to shlep from Maine, to Long island, NY taking backroads, and a hairy Ferry ride to pick it up! But I got it boy!
I have seen nooks and crannies of the northeast, and New England in particular, that I never knew existed. I've met some great, folks, and a few colorful characters. I've gotten stares from folks on the road as I motor passed with my latest quarry lashed to the roof of my car. Each and every adventure is different, but they all culminate in that sense of excitement when the item you ordered arrives in the mail (like
cloth diapers
!!), or you drive to pick up an item, and it exceeds your expectations.
Like the stock exchange, the auction at ebay provides the widest assortment of items imaginable, at prices set by what we the market will bear.
Happy ebay,
Scott