Potty training (aka potty learning) is a BIG deal for your little one! Of course, it's an equally BIG deal for you. Cloth diapered children will
usually
potty train faster than their disposable diapered counterparts (especially those who wear cotton diapers as the wetness is more significant than diapers with stay dry liners – such as pocket diapers).
Things to consider when preparing to potty train:1) Make sure you and your child are truly ready!
Don't feel pressured into potty training your darling son at 18 months because your neighbor's daughter was potty trained by that age. Every child is d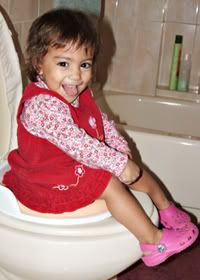 ifferent; some recognize their body's elimination signals while other children do not recognize them for a long time. There are babies who detest any wetness and others who don't mind marinating! *lol*
Look for
signs
of readiness such as: verbal communication, imitates you on the toilet – or shows interest in going potty on the toilet, stays dry for long stretches of time (usually 2-3 hours).
External
signs
of readiness include: squatting, crossing legs (as to try to hold it in), grabbing the diapers, retreating to a corner or a hidden place in the house. These signs are only indicators that your child
may
be ready – but not necessarily so.
2) Make it fun and exciting.
Aside from making sure they're ready – this is the next most important advice. Have a special rewards system in place for acknowledging their successes. Try not to emphasis the accidents and encourage them for success the next time they must "go."
3) Chose the system that best suits your child.
Some children prefer their own potty chair; others like to use the big toilet like mom and dad. If your Royal Highness prefers their own throne include them in the selection process. If your child prefers the standard toilet – consider (temporarily) decorating the bathroom to accommodate their interests. Keep a couple short books handy (potty books are especially helpful), some pictures of things they enjoy, etc… a step stool to make getting on the potty and washing hands more accessible/easy. Personalizing makes the restroom
their
special place to potty!
4) Remember – accidents happen.
Do not punish your child for an accident – these are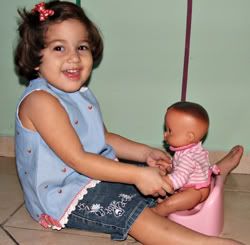 bound to happen. It's difficult for our little ones to unlearn their previous potty habits; before it was completely acceptable to go potty in their
pants
. If accidents occur far too frequently – then take a break and try again later as your child may not be ready just yet.
The purpose of potty training is to teach your child to recognize the connection between feeling the urge to go and then ultimately going. I personally employed the bare bottom approach in the initial stage – as the child becomes more aware of their body and their elimination needs when there's nothing on their bums. This is easiest in warm weather as you can let your child run around in a long t-shirt and nothing else. If they have an accident – they immediately feel it and recognize their body's signals faster when bare bottomed. Of course, this is also a bit frustrating for clean-freak parents like me – it was pretty hard to mentally tolerate the idea of accidents on the carpet (hardwood floors are more potty training friendly). However, we had far fewer accidents with the bare bottomed approach.
Underwear or Trainers?

This is the million dollar question among parents when taking on the potty training challenge. Once you've taught you
r little one to recognize their body's signals – you must decide whether they should wear standard underwear or some form of trainers; this is entirely up to you and what your little one will respond best to.
True training pants are not diapers and are designed to contain accidents but are not typically waterproof (only more absorbent than standard underwear). However, not all trainers are created equal. Some trainers have no waterproof barrier – but are made with a thicker cotton than standard underwear while others do include a waterproof barrier such as the
Imse Vimse Training Pants
; other trainers are nearly identical to pocket diapers except they utilize side snaps or sewn sides and can easily be pulled up and down (these are
usually
best for overnight purposes) such as the
Bumwear Pull Up Training Pants
.
Evaluate how your child reacts to underwear and/or trainers. If your child treats the trainer like a diaper, then it would be best to avoid them. I used "pull-ups" on my youngest daughter for trips outside the home just so I wouldn't have to deal with any potential accidents (which always seem to occur at the most inopportune time). However, after awhile I noticed she wouldn't bother going potty in the toilet or telling me when she needed to go potty while wearing her pull-ups - she'd just reliever herself in them; if she wore panties – she would always tell me when she needed to go potty. Naturally, I stopped using the pull-ups when going outside and she rarely had an accident.
Lastly, overnight dryness may take some time. Therefore, it's highly recommended not to tackle nighttime training until after your child has mastered daytime dryness. Even then, some children have issues with bedwetting (a condition called enuresis); this is more common in boys than in girls, and is considered medically normal/acceptable until approximately 6 years of age. Both my children are still heavy night-wetters and not ready for nighttime training. Until they're ready we use waterproof pull up training pants and one size diapers (for my slender almost 3 year old) for overnight and they work great/ I haven't experienced a leak yet as opposed to the disposable overnight pull-ups which leaked more often than not!
- By Serena