There is much debate over this topic and this question was posted last week thru our Fluff Friday giveaway.
I personally love
one-size diapers
and my product of choice is the
bumGenius
, hands down. At our house it is the first diaper I pick, my hubby picks, and my 11 year old daughter picks when we are changing Riley.
To be honest though, for the first 2-3 weeks a one size diaper, even the
bumGenius one size diaper
is big for an average size newborn (of 7-7.5 lbs).
Why do I think the tendency towards
one size diapers
? I think more people with the state of the ecomony are really trying to cut costs any way they can. Also, we are finding that new customers using cloth diapers (that were disposable users before) are looking to the
one size
for their first purchase.
On the flip side there are some absolutely wonderful sized diapers on the market like the
Fuzzi Bunz
.
Fuzzi Bunz
is the original pocket diaper and is our 2nd best selling diaper after the
BumGenius
.
Basically a
one size diaper
fits baby best once they are 9-10lbs thru 35 lbs.
Happy Heiny's One Size diaper
is a great one size if your baby is still in diapers after 35 lbs as it is more generously cut and has a 4th snap row so the rise (or height) of the diaper is higher than that of the
bumGenius
.
Remember, every baby is different and what work on one baby can work totally different on another baby. I think the
one-size
vs.
sized diapers
discussion is very similiar to
the aplix (velcro) vs. snaps
in that it is truly a personal choice. My advice is to do what works best for your baby, your family, and your budget.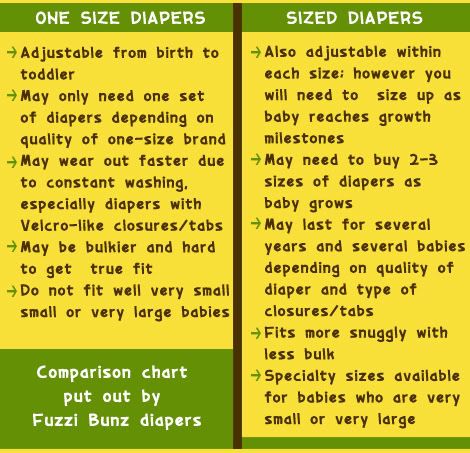 - By Kelly

This post refers to questions from two girls:
*
Amanda
asked "I'd like to see a post on the pros and cons of one-sized diapers versus diapers for each stage and size"; and
*
Erika
asked "what is your all time favorite cloth diaper".
Both of you get an extra comment on this week's giveaway.