When thinking about cloth diapers it's easy to forget about the little details, such as cloth wipes. If you're already committed to cloth diapering – using cloth wipes is truly the easiest and economical way to go!
There are many types of cloth wipes available; terry cloth, organic cotton, flannel, bamboo, velour, hemp, etc… My personal favorite is terry cloth wipes such as
Kissaluvs Knit Terry wipes
. Knit terry fabric is
coarse
enough to thoroughly wipe up the messiest bowel movement but is still gentle on your little one's skin. Oftentimes I can even clean my little man's monster poo with one terry knit wipe (although I typically use an extra one for good measure). For pee-only diaper changes I like to use a cotton wipe, such as the
bumGenius Egyptian Cotton wipes
(these came as part of my
bumGenius Shop and Go Pak
).
On a tight budget? You can make your own wipes by purchasing a ½ - 1 yard of fabric (depending on how many wipes you want to make); cut the fabric into even-sized squares then stitch and/or serge the edges to prevent the material from fraying. Here's an example of the double sided terry wipes I made myself with some stretch terry knit fabric I found on clearance at my local Wal-Mart. My daughters even helped me put the squares of fabric together and handed them to me as they were ready to be sewn.
A solution for your wipes solution…
The cloth diapering fun never ends; once you find the cloth wipe you like best – you can experiment with wipe solutions too! There are some who choose to use only water. I've tried this approach but found with numerous diaper changes throughout the day a little moisturizer is needed to prevent excessive skin dryness.
There are many great reviews for the more popular wipes solutions:
Kissaluvs Diaper Lotion Potion
,
Baby Bits
, and
Northern Essence Tea Tree Oil and Lavender Free Wipes Solution
. I'd love to try these, but since I prefer to save my cloth diaper "allowance" for diapers, I've chosen to make my own wipes solution. I use 2 teaspoons of Burt's Bee's Baby Wash and 2 teaspoons of Burt's Bees Apricot Baby Oil with 2 cups of water; this solution is enough for approximately 20 wipes.
Other recommendations for DIY wipes solutions: boil water with lavender and/or chamomile tea bags and let cool (strain if necessary), then add a little oil (such as olive oil) if desired.
I prefer to have my wipes wet and ready to go, so I store them in a wipe warmer (which I will discuss in a moment). However you may store the solution in a spray bottle and either wet the wipes as needed or spray directly on baby's bum.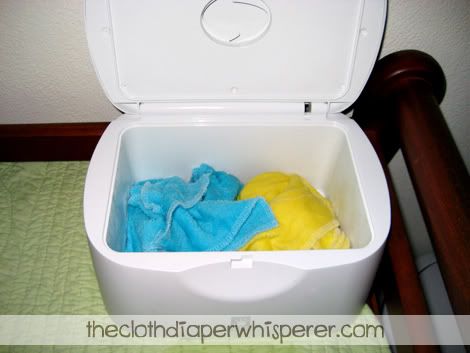 Storing and Warming Your Wipes…
Although I use a wipe warmer it's essentially a glorified storage box as I've chosen not to use the warming feature. I could have used a plastic storage box (or a recycled plastic wipes box), but I still had the wipe warmer my dad bought me 4 years ago – so I might as well use it for storage if nothing else.
The warming feature is great, especially for babies who detest a cold wipe against their skin. Take a cold wipe and slap it against the skin on your stomach to test for yourself how cold wipes actually feel and you would understand why so many babies cry during diaper changes. My little guy doesn't seem to care either way so for the sake of less maintenance I've chosen not to warm them.
If you do utilize a wipe warmer you need to be a bit more attentive as the combination of water and warmth can cause a few problems, namely musty smells or even mold. To deter smells and/or mold avoid using too many wipes in the warmer (no more than you can use in less than a day). You may also consider adding a couple drops of Tea Tree Oil (TTO) to your solution. Tea Tree Oil has antifungal properties and will help ward off any potential problems with mold and also combats smell.
Another way to have warm wipes is to use a small thermal pump pot. Basically fill the pump pot with a little of your warm solution (or plain water) and this will keep it warm for at least 8 hours, maybe longer. Just pump a little water onto your wipe and voila – instant warm wipe!
More savings!
We all know the significant savings we gain by using cloth diapers; but those figures don't typically factor in the cost of disposable wipes. When I used disposable wipes I would purchase them in bulk from Costco Warehouse. A box of 704 wipes (8 packages of 88 wipes each) costs approximately $16; which breaks down to $0.02 per wipe. Two pennies may not seem like much, but over the course of time they certain add up especially when you're using a few dozen a day! By switching to cloth wipes I estimate a person can save a
minimum
of $100 each year!
NOTE:
If experimenting with your own solution
be very careful
not to use too much of any one ingredient, especially oils and essentials oils. If you use too much, you not only risk causing harm to your little one's skin, but the oils can deposit onto your diapers causing an oily buildup leading to leaking and repellency problems.
- By Serena