Since the inception and subsequent success of cloth diapering alternatives, such as Fitted, Pocket, and All-in-One diapers, it's not surprising to hear people ask, "Which diaper will fit my baby/child best?"

Although the One-Size diaper is growing in popularity for its "one size fits most" advantage, it's still important to realize that babies come in all shapes and sizes! Even your own children will differ in size.

For instance, my oldest daughter Aaliyah was an itty bitty newborn. She remained very petite until she reached a year old and then her height and weight skyrocketed. She went from wearing a one size down to size to wearing a size (sometimes two) ahead of her age (when she was 2 she wore a 3T and when she was 3 she wore a 4T/5T, now she's 4 and wears a size 6!). My youngest daughter Halimah, on the other hand, was my Chubby Wubby Bumble Bee. She had ham hock thighs, water wing arms, and a rotund belly! However, when she reached a year old her growth slowed and she thinned out! Now she's very petite (just turned 3 but still wears a size 2T).

Measuring your little one would be the ideal way to ensure the best possible fit when selecting a cloth diaper for your little one. With the right fitting diaper you can be virtually leak-free! Additionally, you'll be saving money by not having to go through the "trial and error" process!

Supplies:
*Pen and paper (to jot down the measurements)
*Measuring tape (the soft flexible type – I do not recommend the retractable metal kind)

Don't have a measuring tape? No worries!
Find some yarn, a piece of string or ribbon, something long and flexible which can be used instead. Ideally you'll need a ruler (yardsticks would work better but you can get by with a 12" ruler too). However, in a pinch you can also use your fingers to measure – I'll tell/show you how later.

The best way to measure baby is without a diaper. For privacy purposes I put a pair of my daughter's panties on my son in order to measure him, take pictures, and avoid being potentially hosed down! (Besides, I'll enjoy the opportunity to tease him about it when he's older!)

Measurements You'll Need:
*Waist
*Thigh
*Rise (aka depth)
*Waist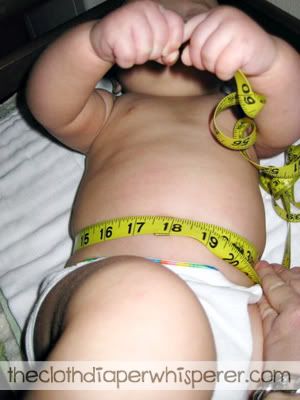 Babies don't really have a defined waistline. The general rule of thumb for determining the waistline for a baby is to use their navel (belly button) as a guide and find the fullest point in that general vicinity. Wrap the measuring tape around them and make sure the measuring tape isn't held taut – you'll want a loose measurement.
Thigh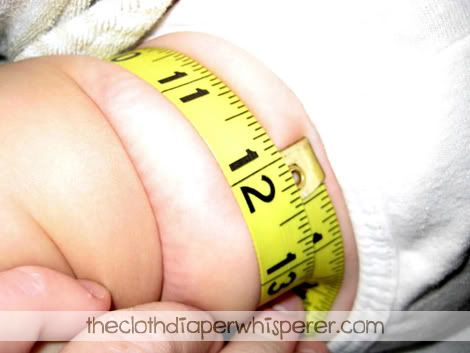 Measuring the thighs of babies is a little tricky as they typically have a few rolls in that area! So which roll do you measure? Typically the inner most part of the thigh has the larger roll, but not always. Measure the fullest part of the thigh and use that measurement.
Rise (aka depth)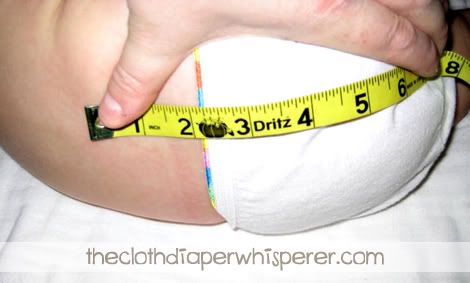 Start with baby laying on his back, gently roll him onto his side so you can place the measuring tape (or string/ribbon) on his back at his waist (since babies don't truly have a waist you'll want to use the point that is level with his navel). Return back to his back and, if necessary, adjust the tape measure. Loosely pull the tape measure over the crotch and up towards the navel (do not hold taut but not too loose either).
Once you have the measurements you can determine what size/type of diaper will fit best.
Fitteds/Sized Pockets/One-Size/All-in-One Diapers
If you're intending to use Fitted, Sized Pockets, One-Size, or All-in-One diapers, you'll need to add a minimum of 2" to the rise measurement to get the proper fitting diaper. 2" is a good round figure but it can be up to even 3" or more if you intend to use very thick inserts/doublers (for instance night time diapers will usually need a larger rise in order to accommodate the added bulk). Additionally, boys will typically require a higher rise than girls since they wet their diapers more in the front.
I measured all of the One-Size diapers I have on hand and while they're all roughly the same overall, some diapers can fit smaller and/or larger than others.
The One-Size diapers with the smallest possible fit:
Soft Bums
,
Rocky Mountain Diapers
The One-Size diaper with the largest possible fit:
Happy Heiny's
and
Wahmies
The standard sized One-Size diapers are:
Blueberry
,
bumGenius
,
BumwearPrefolds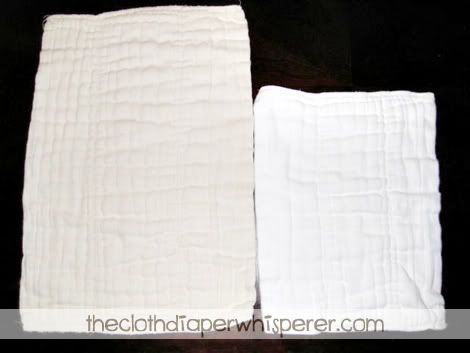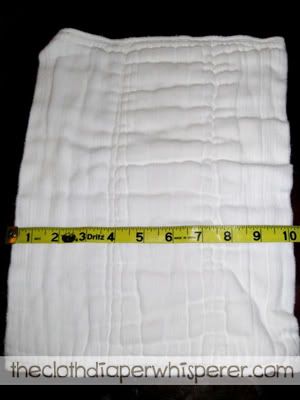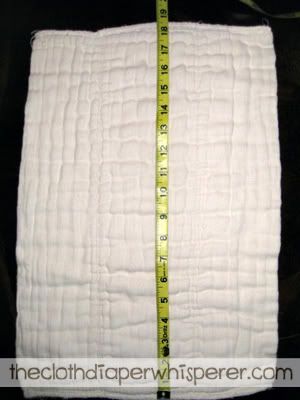 For prefolds, these you'll just have to make sure that the width and length of the diaper will accommodate you little one. For example, here's a picture of two prefolds. The larger one on the left is a standard premium sized prefold. The smaller one on the right is a standard infant sized prefold. The measurements of the diapers are as follows:

Premium sized prefold: 13" wide x 18½" long
Infant sized prefold: 10" wide x 13" long
Obviously the infant sized prefold is too small for my son's current measurements. The premium sized prefold is the perfect width but a bit too long. However, the nice thing about prefolds is the excess can be folded over in order to fit (which also provides a little bit more absorbency up front – which works out especially well for boys).

Diaper Covers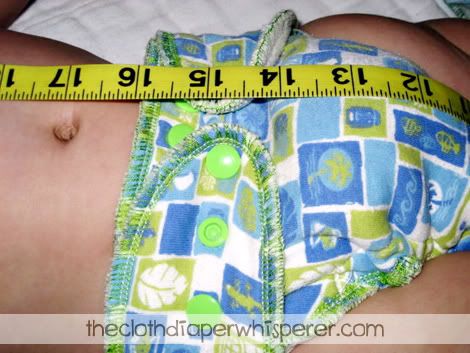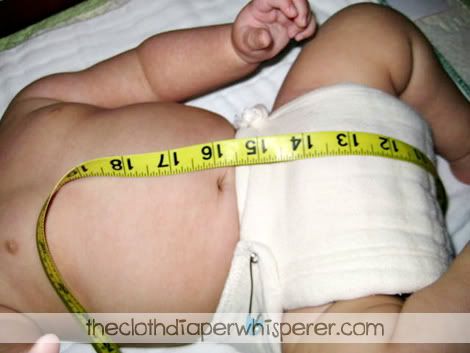 In order to find the right sized diaper cover, you will want to take the same measurements with an actual diaper on you baby (prefolds or fitteds). In the picture of the fitted diaper the rise on it is larger than the rise with the prefold. Therefore, if you're using more than one type of diaper (such as a combination of fitteds and prefolds), you'll want to make sure the cover you buy will accommodate/fit both diapers.

Trainers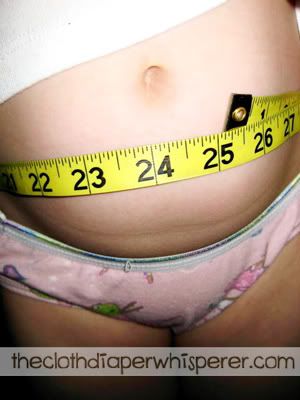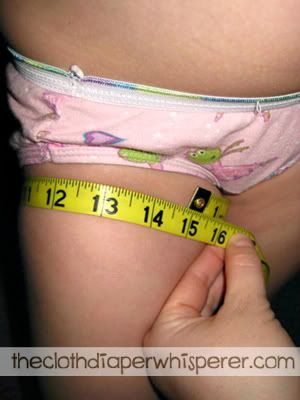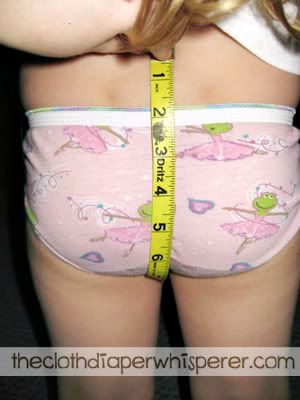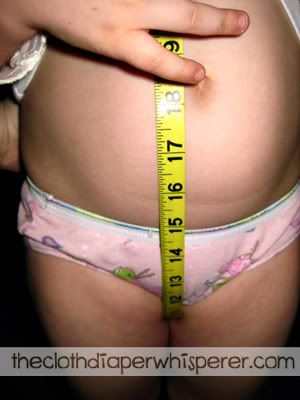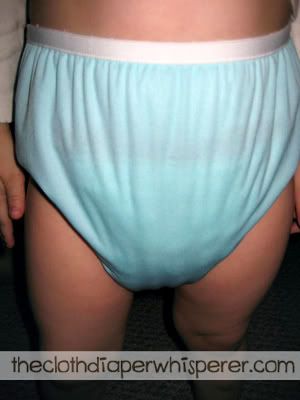 Just like diapers, finding the right sized trainers is important! Since trainers are intended to be pulled up and down to facilitate potty learning (while also helping prevent accidents) – they shouldn't be as snug fitting as diapers.
Therefore, you'll want to make sure your child's waist and thigh measurements are within the specified ranges for the trainer (weight ranges aren't very accurate because a tall and thin 45 pound child and a short and fluffy 45 pound child will not fit the trainer the same). You will find the rise on virtually all trainers is similar to that of cloth diapers (even disposable trainers have a very high rise).
For those of you without a measuring tape…
Use the yarn/string/ribbon to take the measurements. It would be ideal to cut the yarn/string/ribbon for each measurement you take. Use the ruler to determine the measurement.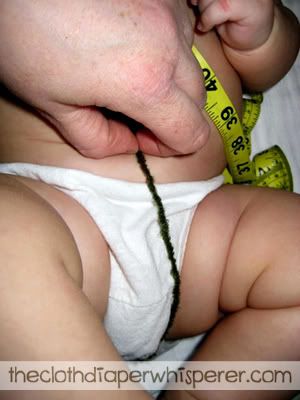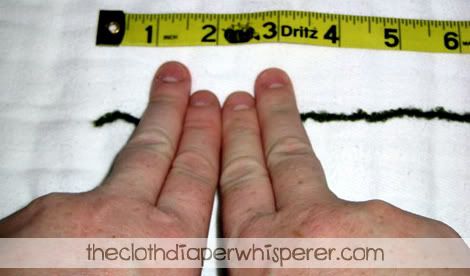 If you don't have a measuring tape, you can get a rough estimate by using your forefinger and middle finger. The width of those two fingers together is roughly 1" for average sized hands/fingers. Basically lay your fingers onto the strand and alternate your fingers between your two hands to count the number of inches. It's not exact, but it's better than nothing!

- By Serena