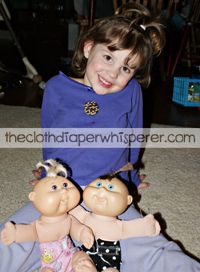 Having two little girls in the house brings a lot of dolls. Where there are dolls there are clothes, or shall I say lack of. Half of the dolls in our home are naked the other half are wearing diapers. Until a month ago these dolls were wearing left over newborn sized diapers from when MacKenzie -my oldest daughter- was a baby. I didn't feel so bad about using left over diapers, but when they started to wear out I noticed my cloth diapers started to disappear. Where they reappeared was quite confusing to me, until I realized what they were on, the dolls in the house.
That's when the realization came, "I can do this, I can make cloth diapers". MacKenzie and I headed off to the store in search fabric. Before I even had a pattern, I had an idea and fabric! My first attempt at making cloth diapers didn't exactly turn out the way I'd hoped, but it worked. As time as went on I've adjusted a ton of things, and looking at those first diapers I laugh. The fun part about making cloth diapers for my daughters is that I can pick and choose all the fun colors t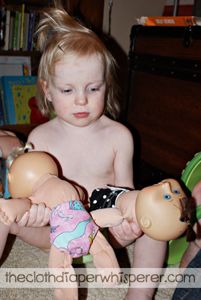 hat I'm not able to with Kaitlynn's diapers.
Having not cloth diapered with my older children, it was all new to me a year ago. I now feel like an old pro with lots left to learn. MacKenzie likes to take her "baby doll diapers," as she calls them, to preschool every so often. I enjoy getting comments on them, and enjoy the fact that I'm not throwing away diapers that aren't even used. Fights happen in my house over the dolls that have fancy diapers on. The ones that remain naked usually are left in the dust.
It's natural for a home of girls to be filled with dolls, what isn't is the cloth diapers that go along with them. In our home it is. It is normal that we cloth diaper, it is also normal that my daughters cloth diaper.
- By Amanda C.
(Mom to Dahrran, MacKenzie & Kaitlynn )
Follow them on their blog
.