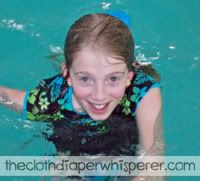 After I read Anelys post "
and then there was sand and sun
" it inspired me to write a post about a fun time at the pool we had a few weeks ago. We decided to throw a combined birthday pool party for Olivia and Hanz the last week of February. Olivia was born on Christmas Eve so we just had a family birthday party at the house but didn't have a "friends" party yet so I asked the both of them if we could do a combined party . They were all for it. We thought what a great way to "pretend" we are someplace tropical (like where Anelys lives!) then to go to the pool.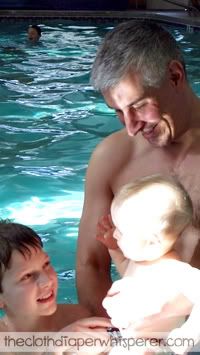 As a parent I love birthday parties that are held somewhere else than my house. Now granted, I love to celebrate the kids parties with a bunch of kids but it is SO nice when you don't have to do a huge clean up after. After working 60-70 hours a week the last thing I want to do is clean. I do it for 5 people but couldn't imagine for an additional 15! (LOL)
About 14 kids showed up and they all had a blast. Olivia is such a good swimmer and has loved the water ever since her first bath. Hanz enjoyed hanging around with his friends but also kept coming over to Riley and Scott. Don't you just love picture of my 3 boys together? I just love it. Oh- and by the way- Riley is wearing a
Imse Vimse Swim Diaper
in Black Lizard print. It looked SO cute on him. I put a large on him but I think he really could have used a medium.(Swim diapers should be fairly snug.)
Now you won't see a picture of me swimming. I have a hard time with heated indoor pools and the strong smell of chlorine. Now the ocean is just fine and my friend Anelys has invited us to come down and visit her and her family so maybe someday we could do a post of "blog crew" down in the "sunny place"! Needless to say everyone had a great time swimming, eating pizza, and devouring the chocolate cake and ice-cream.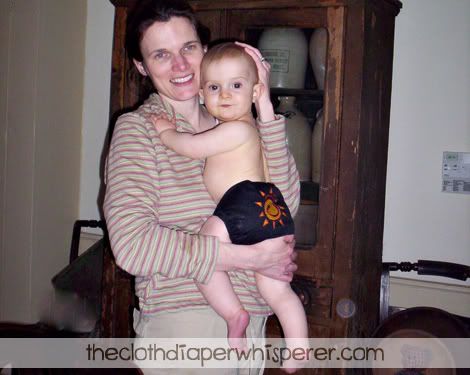 So- I had to sneak in a super cute picture of Riley in his "sun" diaper. Can anyone guess what brand of diaper this is? I had this custom made years ago and I sold them on
Kelly's Closet
about 4 years ago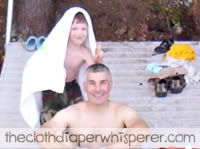 . I saved one and now Riley can finally wear it.
During the summer the kids and Scott have a blast swimming at the lake. "Keoka Lake" is literally right across the road from the shop and we own 420' of shoreline. Last year we purchased a large dock and had it installed so it is a great place just to hang out (see pic on the right) and cool off. Believe or not we do get a few (now I mean 6 or 7 out of the whole year) days we get over 90 degrees.
We are all looking forward to spring in Maine and for all of you who live down south send us some heat waves!