Over the past nine months my diaper stash has grown from two twilight BumGenius 3.0 pocket diapers, to over 50 various pocket and fitted diapers and several dozen flats. Up until a few months ago I had two little ones in diapers full time, but thankfully, my oldest is now day trained and only wears cloth at night. My current diaper rotation consists of around 35 or so diapers, which allows me to do diaper laundry just twice a week. I like all of the diapers in my current stash, but there are definitely certain diapers that I grab for at specific times, as well as diapers that I prefer when my son is wearing smaller fitting clothing. Whereas I couldn't live without my #1 diaper, the BumGenius 3.0's, they tend to be a bit bulkier than some of my other options. Here's a peak into my stash, the diapers I can't live without, and the three I grab first at changing time.

#1 BumGenius 3.0
The diaper that makes up more than 50% of my pocket diaper stash is the BumGenius 3.0. I love this diaper and can't rave about it enough. It is the perfect diaper for taking on the road with me for quick day trips, as well as leaving home with daddy or the babysitter to change. I've even had success packing the BumGenius, along with my Planet Wise Wet Bag, and leaving it at the Church nursery when I drop my kids off on Sunday morning. This diaper is incredibly absorbent, rarely leaks, and contains the biggest blowouts – even with breastfed baby poop. (Can anyone say that about a disposable?) My youngest son, Brendan, began wearing the BumGenius 3.0 at around 3 months old and around 13 lbs. The fit was fantastic then, and now at 1 year old and 24 lbs, the fit is still wonderful.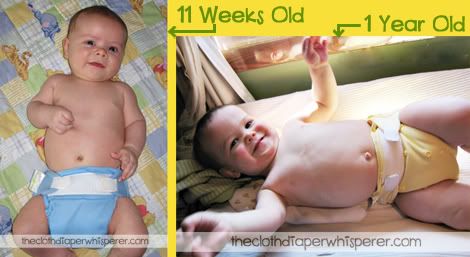 Of all the diapers in my stash, the BumGenius 3.0 is the only diaper I trust at both naptime and overnight. To increase absorbency at night, I simply add a BabyKicks Hemparoo JoeyBunz insert, and we're good to go for up to 12 hours. If I could only have one type of diaper in my stash, the BumGenius would be it. This diaper makes cloth diapering just as easy as disposables, and I wouldn't want to live without it.
#2 Birdseye Flats

Yes, you read that right. I use flats and love them! I only wish I would have discovered how easy they are to use earlier in my cloth diapering days. Last month I was looking for a cheap alternative to using my pocket diapers while I was at home, which is most of the time. I wanted to lessen the wear on my BumGenius diapers, and wanted something that would be simple to care for. I did some research and decided to give flats a try. I was attracted to the low price, as well as the ease in washing and drying them. Being so thin, they dry very quickly, which in turn saves me money when using my electric dryer. Living in WI I just can't line dry my fluff year round as I would like to - I'd end up with cloth diaper popsicles. In most cases, I use two styles of folds when using my flats – the traditional flat fold and the origami fold.
Traditional Flat Fold
Begin by folding the flat in half.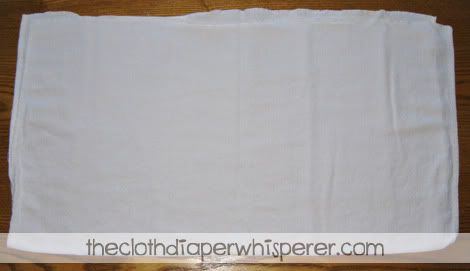 Fold one side of the diaper just past the center of the cloth.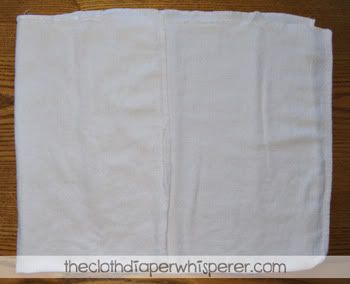 Fold the other side just past the same center mark on the cloth so that there are now several layers of cloth in the center of the diaper.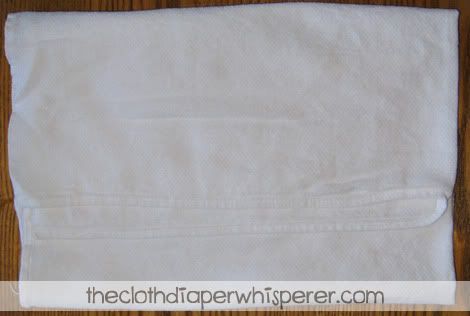 I then fold the side of the diaper as shown for tapered fit.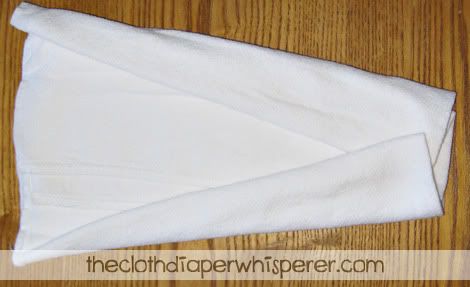 Place diaper in cover, folded side down and you're ready to go.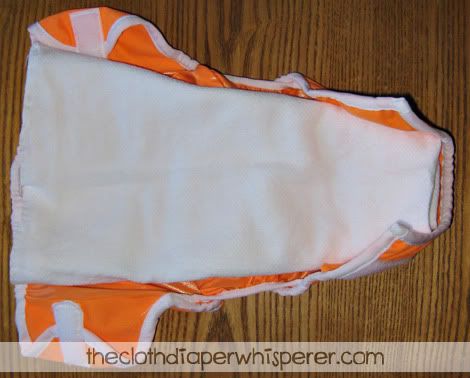 Origami Flat Fold
Start by folding the diaper in half, and then in half again to create a square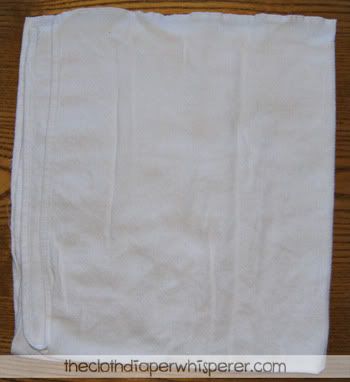 At the top corner where all four corners meet, grab the top three layers with one hand, and put the other corner away, so that there is a triangle of fabric flat on the folding surface. (This took me a few tries to perfect, so don't be discouraged if it takes a few times to get it right.)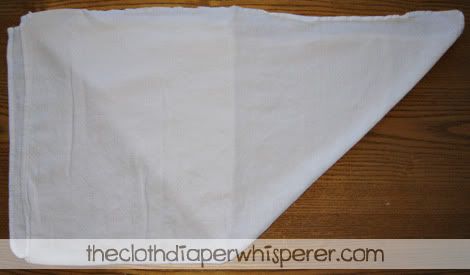 You will notice a square shaped piece of fabric attached to the center of the triangle. Fold this square to around the center of the "square".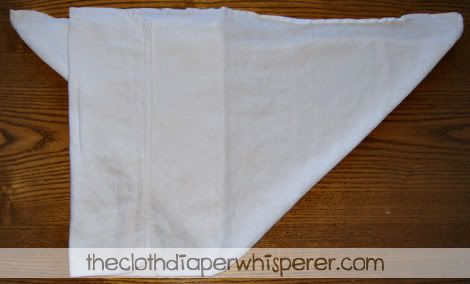 Fold again into the far edge of the square, and adjust to the center of the "triangle" if necessary.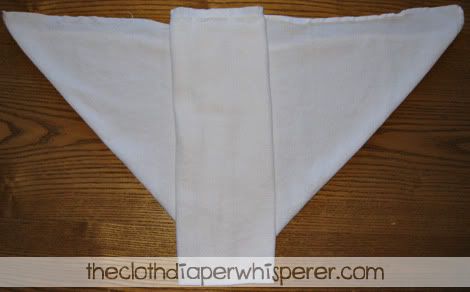 For a trimmer fit around the legs, you can gently fold in the sides of the diaper as shown here.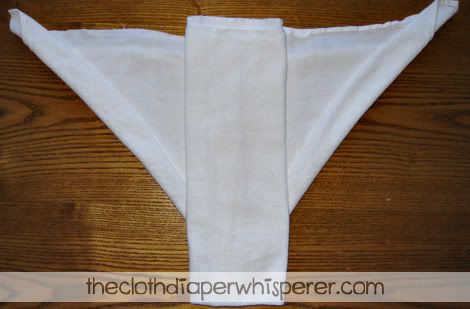 Place the folded diaper in a cover and you're ready to go.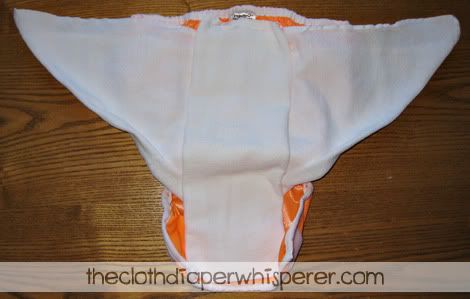 I lay my folded diapers in a Thirsties or Bummis diaper cover and we're good to go. I don't even bother with pins or snappis, as I've found that I really don't need them when using a proper fitting diaper wrap or cover.
#3 Blueberry Minky One Size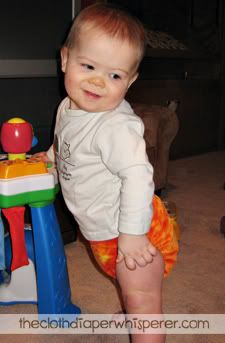 I only own two of these diapers, but if they are clean, I will always grab for them when I want to show off my fluff. The fire opal and cute jaguar prints always catch people's attention at changing time, or when I am letting my little guy run around the house in just a diaper. I've started several conversations on cloth diapering with people after they catch a glimpse of these way too cute diapers. I'm anxious to add a few more of these to my stash in the next few months. Sooner or later the warmer weather will find us in Wisconsin , and my little guy will be able to strut around in just a diaper.
Well, that's a peak into my world of fluff and a little a about my favorite diapers. I have several other brands in my stash that I like including, Fuzzi Bunz, BumWear, Thirsties Fab Fitteds and several made by a work at home mom. I am always anxious to try new diapers, and can't wait to check out the Kiwi Pie One Size Bamboo Fitteds as well as the new Gro Baby and Fuzzi Bunz One Size diapers. Not that I need any more fluff…but doesn't it seem we are always wanting more?
- By Katrina W.